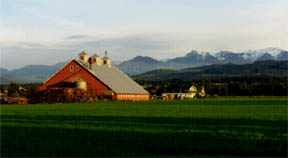 Just a reminder to everyone out here on the Olympic Peninsula that the 4th Annual Farmer's Breakfast is THIS WEEKEND, FEBRUARY 7, at the Sequim Prairie Grange, aka Macleay Hall, located at 290 Macleay Road in Sequim. If you're coming over to the Peninsula, ya gotta eat anyway, so why not make it here at the Grange and help out a good cause.
You get very fresh local foods – ham, eggs, toast, jam, juice, & coffee – lively entertainment – a silent auction – good company – and the good feeling that comes from knowing you're helping to preserve farmland in our region.
The event is sponsored by volunteers at Friends of the Fields, who work tirelessly to help protect what we too often take for granted — the availability of fresh food. Some of our most fertile land (the flat spaces!) is being divided up into neighborhoods. In fact, 3/4 of our original 76,000 acres of farmland has been sold to housing or commercial development!
Taking steps to protect our ability to feed our own community just makes sense.
But it is so much more. It's preserving a part of our history and a way of life; it's protecting open space, wildlife habitat, and our groundwater; it's reducing our carbon footprint and ensuring our independence … in addition to ensuring a supply of nutritionally superior food.
If you can make the Farmer's breakfast, you can help this cause, eat a great meal, and have a good time all in one!
If you can't make the Farmer's breakfast, consider donating to the Friends of the Fields, a nonprofit organization dedicated to preserving farmland and supporting sustainable agriculture in our region. It's an investment in our future.
Directions to the Grange:
If you're coming from Port Angeles, follow the Old Olympic Highway toward Sequim. Where it makes the S curve in Carlsborg, instead of turning right to follow the Old Oly (going straight turns into Cays Rd.), make a left. Can't miss the Grange on your right. Coming from Sequim, take the Old Olympic Hwy to where you come to the main intersection with Cays, and instead of following the Old Oly to the left, go straight.
Hope to see you there!