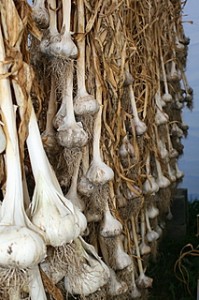 Hooray! The garlic is harvested and is now 2 weeks into the curing process.
What do 1300 bulbs of hanging garlic look like?
Granted, by some standards, that is not a lot. But for me – and for many who buy a few bulbs now and then – it's like, wow – over one thousand bulbs!
How to describe what it is like to step into a small room, surrounded by hanging garlic, and inhale the dense pungent aroma …
It makes you slip into visions of roasted bulbs, garlic bread, rich sauces, stir fries, pestos, tapenades ….
It's enough to make one swoon ….
Do we have to wait?
No!
Indulge NOW!