SALE! SALE! SALE!
ALL THOSE WHO ARE ON THE FENCE ABOUT INVESTING IN THE GREENHOUSE OF THEIR DREAMS: FOR A LIMITED TIME, ADAPTIVE PLASTICS, THE MAKER OF SOLEXX GREENHOUSES, IS HAVING A "TAX REFUND" SALE. CONTACT ME FOR PARTICULARS. REDUCED PRICES THROUGH APRIL 15, 2018.  I AM HAPPY TO PASS THE SAVINGS ON TO YOU!!!
---
Looking for a Solexx Greenhouse Kit? Want more information on sizes, models, and particulars?
Solexx has several different kits in different sizes. The standard kit includes 3.5 mm Solexx (5 mm can be ordered), the heavy-duty composite frame, integrated bench frames, hanging rods, a strong, lockable door, a built-in base that requires no foundation, an easy-flow louver, and, of course, the Solexx 10-year limited warranty.
Deluxe Kits:  In addition to the above, the Deluxe kits also include tie-down accessories, a solar louver opener, base vents, and wire bench shelves that fit into the built-in bench frames.
All kits include FREE Delivery to the contiguous 48 states!
---
---
Price List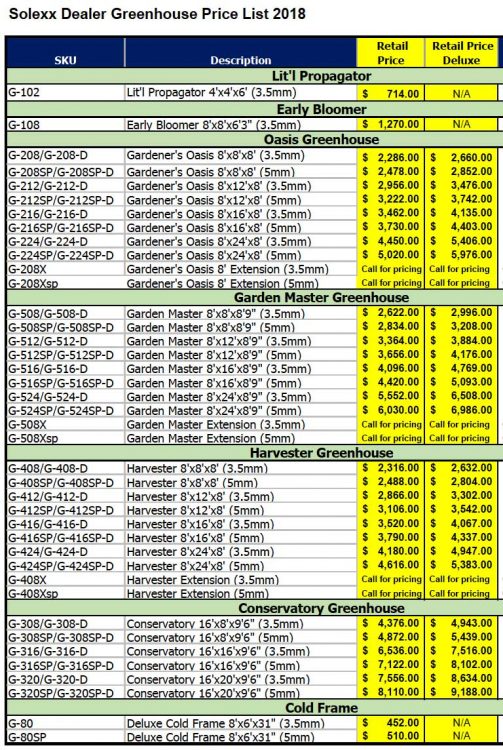 ---
Solexx Installation Guide: Tips and tricks to optimize your structure, whether a DIY project or a kit. This pamphlet gives lots of info on how to best optimize Solexx installation, including deciding on size and direction, rolling it out, cutting it, screwing it down, caulking, maintenance, and where to go for more technical support if you need it.
---
Need Help with Greenhouse Set-up & Installation?
We recommend ONA Landscaping.  We have a definite bias: the owner of ONA Landscaping is our son, Matt Ward – but we are also biased because Matt and his business partner, Micah Rankin, do fantastic work and are ultimately reliable. ONA Landscaping has been in business since 1977 (Matt has been running it since 2014). It has a well-earned reputation of quality and trust in our community.
To Order Solexx Greenhouse Kits, Materials, and Accessories, Please Contact Me:
Blythe Barbo, Authorized Dealer of Solexx Products
Barbolian Fields
3623 Woodcock Rd.
Sequim, WA 98382
ph. 360-477-2786
email: blythe [at] barbolian [dot] com