Willows are so versatile and so easy to grow! Use cuttings for growing living fences, domes, and the like. Plant some this year and harvest full rods next. Great for basketry, trellises, wattle fences, sculptures, and so much more! Willows are becoming recognized as a quick-growing source for bio-fuels. They are a wonderful source of bee pollen in early spring. I always leave some standing for the bees. They are great for remediating toxins and also for erosion control. Early spring shoots make a great "willow water" rooting hormone for seedlings and transplants.
Links to Willow Works
I love willows!
Note: We are finished harvesting willows for 2021 and no longer have live cuttings for sale. Many thanks to all those who supported our little willow experiment!
We are now (Feb – March) copicing our willows. I can ship 12″ cuttings, but not long rods (U.S. only) in Feb/Mar months only. Green rods and cuttings are also available for local pick up. We also have dried rods. Call or email to make arrangements.
We currently have the following Salix varieties:
Brittany Greens – S. purpurea (good weaver)
Dark Dicks – S. purpurea (deer resistant; bigger than Green Dicks; structures)
Dicky Meadows – S. purpurea (deer resistant; dried rods only; good for weaving)
Golden – S. x fragilis (winter color)
Green Dicks – S. purpurea (good weaver; deer resistant)
Harrisons – S. x rubra (gets large; nice for structures; coarse baskets; sculptures)
Noire de Villaines – S. triandra (good for living fences, structures, basketry; deer resistant)
Polish Purple – S. purpurea (slightly purple catkins but dries brown; good for weaving)
If you are looking for other varieties, I highly recommend the folks at Dunbar Gardens and also the Vermont Willow Nursery.
Price is $1.50 per cutting (12-18″). $3.00 per rod or suitable trade. Dried rods negotiable. Does not include shipping on cuttings.
Send a text to blythe @ barbolian (dot) com to place an order or figure out a time to get together.
We are also selling custom-made willow balls. Prices vary according to size.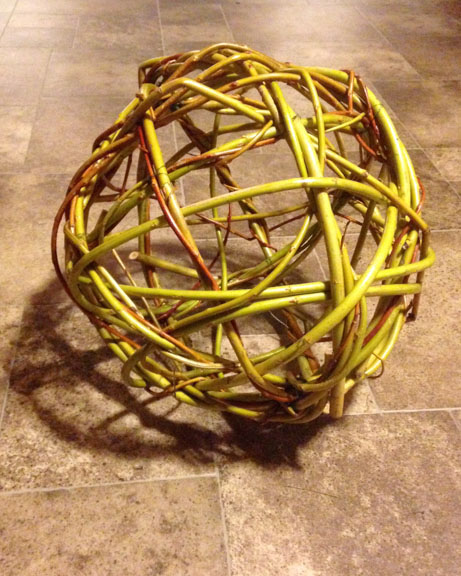 Love willows as much as we do? Here are a few photos. We will be adding more as we go through some old files!
Thanks for visiting Barbolian Fields!