"Gratitude unlocks the fullness of life. It turns what we have into enough, and more. It turns denial into acceptance, chaos to order, confusion to clarity. It can turn a meal into a feast, a house into a home, a stranger into a friend. Gratitude makes sense of our past, brings peace for today and creates a vision for tomorrow." –Melody Beattie
I am hoping everyone had a Happy Thanksgiving, with lots of good food and laughter shared with friends and loved ones.  I am always reminded how very fortunate some of us are to be able to grow our own food or have access to locally grown food, raw milk, and handmade goods, and also how fortunate some of us are to be in a position to share that abundance.
However, it seems Thanksgiving is becoming more and more of a pass-over holiday – i.e., one that is passed over in jumping from Halloween to Christmas. Stores will be opening in less than an hour from this writing to offer prices that maybe should have been charged all along. Others will be racing to take advantage of those deals (and get the whole gift-giving responsibility "out of the way"–a sad commentary).
Times are hard, but all the more reason to ask ourselves, how much stuff do we really need? Will a bigger TV or the latest smallest widget make us happy? For many, "Black Friday" has become a day of consumer gluttony following a day of gluttonous consumption. It's almost un-American NOT to participate.
To me, though, there are plenty of other days when I can contribute to the economy. On this day, I prefer to escape the capitalistic frenzy and get closer to that which is real in my world – those unchanging truths that have defined our existence since before written time. Record rainfalls, wind, high tides, storms – the power of nature is in full November force. Even a simple walk to the garden is a chance to see miracles.
In that vein of thought, I wrote this poem about being thankful:
Thank You, Good Earth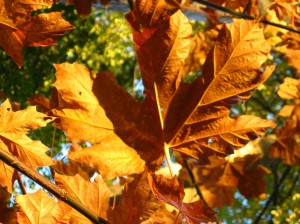 Thank you, good earth, for the frond on the fern,
And the simple worm that squiggles and squirms,
Turning the dirt into gold.
Thank you for leaves changing greens into reds
That glimmer and shimmer and spin overhead
And blanket the ground from the cold
Thank you for water that drenches the earth
And quenches the thirst of the seedlings that burst
With the birth of a newborn day
Thank you for the breath of life in the wind
How it clears my fears when I inhale it in
And whishes the shadows away
Thank you for gardens, hidden within,
Where sun and shadow rest calm with the wind
Though storms at the door rage wild
Thank you for memories, our paths to the past
Where we wander 'neath arbors not meant to last
Where harbors the heart of a child.
* * * * *
Thank you, Debra, for sending me the quote at the beginning of this post and giving me a moment to ponder. I'm still trying to make sense of my past, but that can be saved for a different couch.
Wishing you all abundance, however that be defined, and please, friends, remember to buy local and support your family farms.
Blythe