Hello Friends! This all-purpose contact form is a secure way of contacting us to order plants, herbs, Solexx greenhouse materials, beehives, or any of the other products you see on this site. We frequently add things; sometimes things are temporarily out of stock. We are a home-based business and appreciate your understanding that not everything gets updated immediately on the site.
We offer consulting services at a nominal fee. Want some ideas on how to make your garden into more of a self-sustaining ecosystem? We have lots of ideas – whether you call it "permaculture," "agroforestry," building a "food forest," or just thinking about how to minimize your footprint or conserve on water and other resources – we are here to help. We are also passionate about bees and love to share ideas on building gardens to help honeybees and native pollinators.
Other questions? Just want to talk bees, gardens, and ecosystems? Yes! Would love to chat.
Thanks for contacting us. We'll get back to you as soon as we can!
~Blythe
P.S. Before you go… Are you a bonafide member of the Barbolian Fields Fan Club?
If not, we'd love to have you join us! Fan Club membership entitles you to advance notice on sales & freebies, things I come across that are worth sharing, and assorted ideas that don't really fit into a blog post. I don't send out newsletters very often – perhaps when I post a new blog entry, and only when I have something to say. I shoot for quarterly or oftener. I promise not to bog down your Inbox!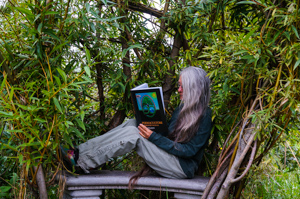 P.P.S. We are trying to minimize the amount of spam we get, but sometimes it appears the contact form fails to function. We are currently testing out a new one. If you have troubles, please send a note to blythe @ barbolian . com (without the spaces). Thank you!
Blythe Barbo
Barbolian Fields
3623 Woodcock Rd.
Sequim, WA 98382