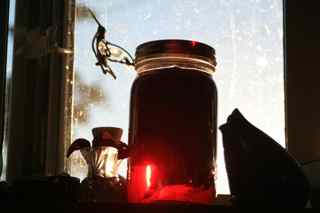 We've had a few unseasonably warm days lately here on the Olympic Peninsula – the kind of days that made me think I could still plant a few cool-weather veggies in the greenhouse and conduct a little experiment with garlic bulbils (more about that later). I love how the fog creeps across the fields at this time of year. But you could definitely smell the coming change in the weather, and sure enough, by yesterday afternoon, we started getting waves of rain, along with reports of scattered snowflakes (!) in town. We are waking up this morning to the wind bending the trees and stripping them buck naked (a line that is sure to get me a lot of spam). Fall is definitely here.
So – no time to lose! If you get out there right now, you might still have a chance to harvest things from the garden to use in making gifts for the upcoming holidays!
Or you could procrastinate like me and the week before Christmas be scratching your head and wondering what there might be to salvage, an experience last year I solemnly vowed not to repeat!
Of course, everyone's garden is different – so what you harvest and make will largely depend on what is available. I took a survey yesterday of what I had, and here are some ideas I came up with:
Seed Packets: Sure, some have already shattered and scattered – but there are still a lot available. I found quite a few flowers: calendula, marigolds, hollyhocks (save the deep red ones!), larkspur, 4 o'clocks, nasturtiums, poppies, and sunflowers (leave some for the birds!); my usual assortment of herbs: savory, oregano, dill, coriander, fennel, feverfew, and verbena. Also a few not-so common ones, such as cardoon, which is a dramatic plant that is fun to share. For your dyer friends, weld and woad seeds are abundant.
Make little packets of seeds with a photo or drawing and instructions how to grow. Save the poppy seeds until the last minute and make your friends a batch of poppy seed muffins – or write out the recipe, assemble the ingredients, and let them make their own muffins!
Bulbs: Dig some up now to share with friends
Cuttings: So many things to do with cuttings! You don't want to prune too heavily before the plants go dormant, but taking a few cuttings here and there now while they're still in half-way decent shape should be ok. Dip cuttings in rooting compound, and get them started so you can give them as plants later. A little indoor herb garden makes a really nice gift (dig up clumps of chives) – and cuttings of some herbs, such as the thymes, are much more true to the mother plant when propagated with cuttings.
Dried Culinary Herbs: Hang herbs to dry and make your foodie friends some gourmet culinary blends. Rosemary, sage, thyme, oregano, savory, bay leaves, dill, cilantro/coriander – what have you. Sometimes it's nice to just shake on a little of something already mixed up, rather than hunt through everything to get individual pinches of this and that. Make a blend for meats, poultry, fish, veggie dishes, etc. Including a recipe is a nice touch.
Tea blends: mints, bergamot, chamomile, lemon balm, rose hips come to mind…you could add a little dried orange peel or ginger, depending on the blend. Nothing like a mug of hot tea to add warmth on a blustery winter day. You could even "wrap" it with a mug to sip it in.
Potpourris: take your favorite dried blends – add a few flowers (do you still have roses?) and seed pods for variation – it might be too late for lavender blossoms, but lavender leaves also have a nice scent – add scented oils if you like – fill a decorative jar, small basket, box, or sachet bag – easy! Embroider on the sachet bag…um…now you're turning it into a "project."
Catnip bags – don't forget your feline friends. They don't care about embroidery.
Wreaths: Bay leaves in wreaths are particularly nice, as are rosemary branches. Sage gets kind of crumpled looking, but combined with wormwood, santolina, and lavender can be quite beautiful. Swags are usually more my style – tie a bundle of herbs with a bow and call it good. We do have grapevines, though, as well as corkscrew willow – so it's fun to come up with funky creations when I have time.
Apples sliced cross-wise (don't bother peeling) and dehydrated have a beautiful star shape in the middle and are a really nice addition to wreaths. (Try drying oranges sliced this way, too – they come out looking like stained glass!).
Pressed Flowers & Leaves: Put them in an old book, weight it down, and use them later on cards, candles, homemade paper, botanical bookmarks, gift wrap, etc. Dip pressed leaves in paint and make prints. Photocopy your designs to make multiple cards & wrapping paper.
You can also "press" your leaves and flowers in the microwave on half power. Wrap a paperback book with rubber bands to make sure things stay flat – or just weight it down with a plate. Take it out every 20 seconds or so (more often toward the end) to let the moisture escape, and be sure to stop short of crispy dry as the plants will continue to "cook." Flowers keep their color a lot better this way than when allowed to dry in a book or pressing block over time.
Herbal Salves and Lotions: Got calendulas? Calendulas bloom profusely all through fall and are such a cheerful flower – I think everyone should grow them for that alone – but their medicinal properties are legendary. It is so easy to collect the blossoms, chop coarsely, place in a jar, and top with olive oil or some other fine oil. Let them infuse for a couple weeks, during which time the oil takes on a beautiful golden color. Strain the oil, thicken with a little beeswax (1-4 parts wax to 10 parts oil, depending on how thick you like it, is pretty standard), and you have a soothing cream or salve. You can add a few drops of tincture of benzoin as a preservative, but it keeps very well as is if stored in a cool dark place. A few drops of lavender essential oil is antibacterial and also acts as a preservative, as does a little tea tree oil. I really don't know why I don't get around to making this more often, it is so easy. So nice on chapped hands. Or a baby's bottom. Or both.
Canned & Dehydrated Fruits: We're into canning and dehydrating in a big way in our household, so homemade jams, jellies, pickles, chutneys, and dried fruits are always fun to give away. Someday I will write a post about my experience with some of the more unusual combinations – but as far as what you can do right now – apples are big. Apple butter, apple sauce, herb-infused apple jelly (rosemary, mint, etc.), and cinnamon-dusted dried apples are all good. You can later use canned applesauce to make cakes and candies, like applets, which, if you haven't had, are a gelled apple-nut mixture that is dehydrated.
If you've got green tomatoes (yes! despite the cool summer – or maybe because of – we have a few!), don't forget green-tomato mincemeat.
Herb Vinegars: Purple basil in a jar of vinegar is absolutely gorgeous. Repurposing unusual bottles and adding a sprig of rosemary, thyme, a clove of garlic, or combinations of herbs to a nice vinegar is a lot of fun. Makes me wish I still had my tarragon plant. A combination of rosemary and tarragon in a little champagne or white wine vinegar is – hmmm – worth buying another tarragon plant and trying again next year, for sure.
Pickled Garlic: When I plant garlic, I always have quite a few leftover cloves that didn't go into the ground. They don't keep very long when they are broken away from the bulb, so toss them in a jar, top with vinegar, and stash in the fridge. Very easy! (Dehydrating them and making your own garlic powder is also good).
Pickled Nasturtium Seeds: Ever make nasturtium capers? If you've ever tried them, you will want to grow lots of nasturtiums just to pickle the seeds with a clove of garlic and a little mustard seed. Canned in a fancy jar with an elegant label, they are the perfect gift for your gourmet friends.
Horseradish: Ready for harvesting! HOT gift!
Garden & Nature Ornaments: Seed pods, woven grasses, twigs, walnut shells, & lots of etc. can be made into ornaments. Let your imagination be the limit (is what they always say). You're on your own here, friends. We'll compare notes later, mmm-k?