Here are the drawings from the slideshow on the Implementation Plan page. The original drawing used a photo of our property downloaded from Google maps and imported into Inkscape. We outlined the buildings and filled in details of vegetation and gardens. Each layer represents a different 3-year phase and what we accomplished (or hope to in future tense). Some of the text is a bit hard to read. I am hoping to figure out how to better save the graphics and size them for the web without compromising readability, but it has been a bit of a learning curve – so if someone out there has tips on how best to do that, they'd be much appreciated! (the person and the suggestions!)
Historical Perspective
It was fun to find out we could access historical photos through Google Earth and see recent changes. The resolution has improved!
Next steps were to create a drawing of the gardens with an overlay on the Google photo, so everything would be in the right place. Interesting to find out that the barn did not allign perfectly with the house — they are slightly askew. I think of our gardens as "rooms" – overlapping areas that slightly differ in light, water, and soil and the types of plants that would want to live there. It is easier to visualize the phases with these rooms defined.
---
Phase 1 – 

Permaculture Awareness; Initial Investment in a Food Forest
Primary Activities:
Rainwater catchment system
Small pond, spiral bed, keyhole and raised beds, furrows in beds to catch water
Wildlife corridor planting
Vermiculture
Sheetmulching of orchard
Plant purchases: uncommon fruits, perennials, canopy layer shrubs and trees
Willows, windbreaks
---
Phase-2 – Building the Systems – Bees, Polyculture Gardens, Education
Primary Activities:
Bees & Hives
Small ponds, spiral gardens, living wall, patterns, polycultures
More native plants and perennials; grains
Scything of mulch
Vermiculture
Holistic orchard care
Seed harvest; harvesting uncommon fruits
---
Phase-3 – Reducing the Footprint; Capturing energy; Optimizing Zones; Building Self-Sufficiency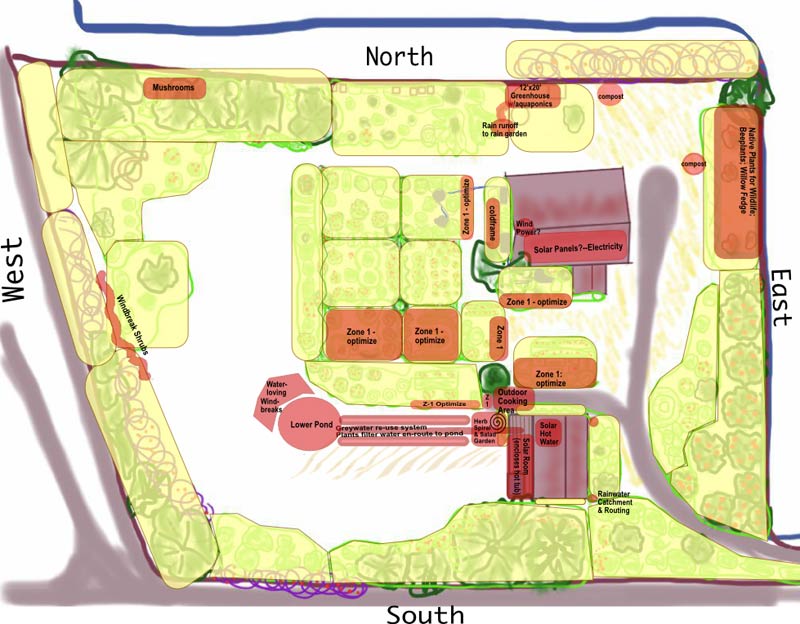 Primary Activities:
Solar panels for electricity & hot water
Solar room attached to house
Outdoor cooking areas; rocket stoves
Greywater re-use system; rainwater catchment
Zone 1 gardens / gathering areas (challenge: dealing with quackgrass!)
Greenhouse & aquaponics; catch & route rainwater; coldframes
Mushroom culture
Hugel beds, windbreaks, green manures, medicinal plants, bee plants, wildlife / native plants
Workshops & outreach
---
Phase-4 – Reaching Out; Adding Small Livestock; Evolving with Succession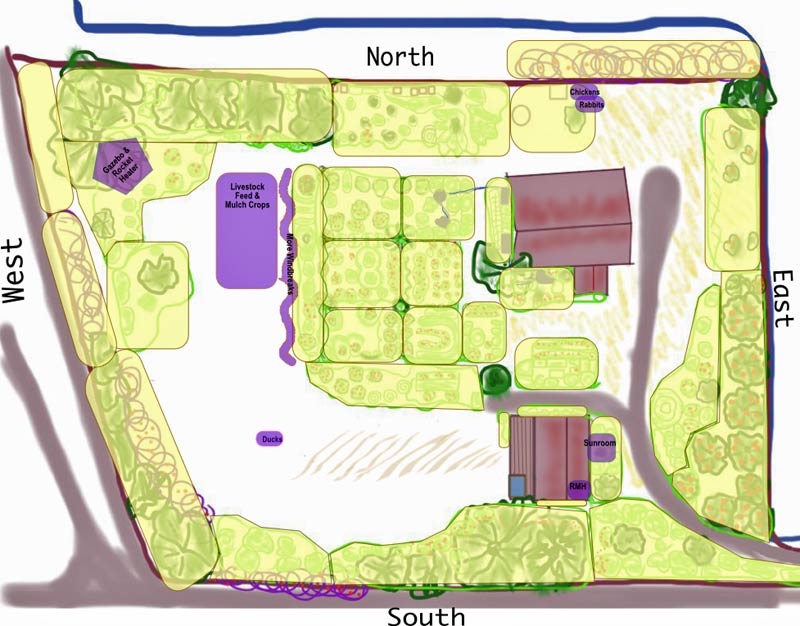 Primary Activities:
Gazebo in far field with rocket mass heater
Small livestock (chickens, ducks, rabbits)
Morning solar room on house
Household rocket mass heater
Grow livestock feed; fine-tune guilds
Workshops; e-books
---
The Whole Picture, Phases 1-4, 2009 – 2020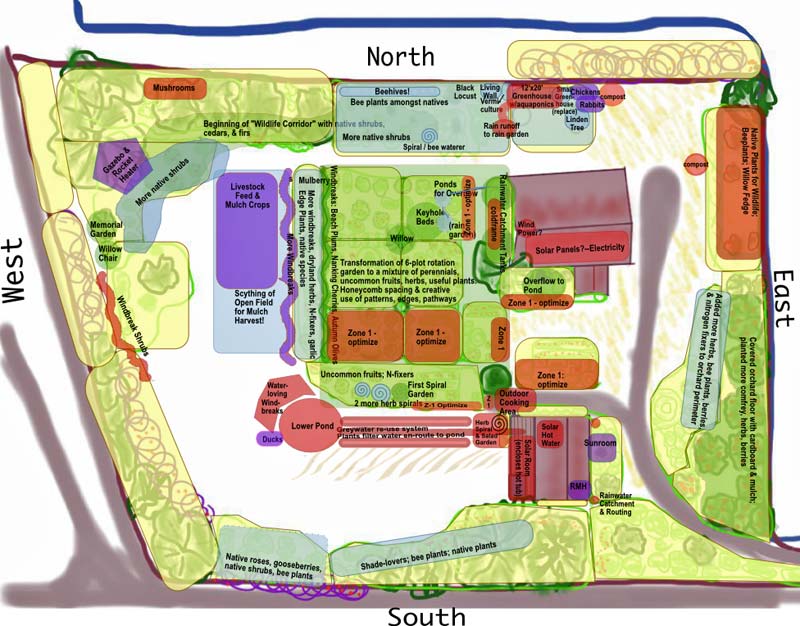 ---
Thanks for visiting!