Optimize your system with accessories from the makers of SOLEXX.
Quick Links on this page:
Bundle Kits (see price list)
Current 2022 Prices are listed at the bottom of the page.
Contact us to order
Call (360) 477-2786; email blythe @ barbolian . com; or use the order form in the link above. Thank you!
Glad we can help you get your greenhouse up and running!
VENTILATION
Universal Solar Powered Window Vent Opener
NOTE: This solar opener is no longer being carried by Adapt8. I left the description here as it is still something you might want to consider for ventilating your greenhouse. A similar product can be found elsewhere on the internet. I found some on Amazon* from $28-$65 and up, but cannot recommend any particular item because I haven't tried them. As a reference, the one pictured at left used to sell for ~$69 through Adapt8. I will let you know if Adapt8 starts carrying it again. They stand by their products!
Solar powered vent opener automatically opens most vents
If it's sunny out, even in winter, the temps in the greenhouse will climb rapidly! Nice not to have to worry about it if you're not there to open the vents. The parafin wax in the piston of the solar-powered vent opener expands and contracts to automatically open and close the vents as the temperature changes. No electricity or batteries needed. Extends 12″ to open; supports up to 15 lbs.
HV-10 Solar Powered Vent Opener
Solexx Closable Base Vents
Create a natural cross ventilation with a combination of base vents and louvers. Mount two of these ABS polymer 4″ x 9″ base vents for every 4 feet of greenhouse length; close them up in cold weather. Works.
They come in sets of 4 or 6.
HV-20 Base Vents (4″ x 9″)
Greenhouse Louvers
Choose from Solar- or Manual-Powered Louvers
Louvers are designed to let fresh air in and keep the rain out. The frames are made of outdoor-grade PVC and measure 24″W x 12″L. Three louvers made from 5mm Solexx high-density polyethylene allow diffuse light into the greenhouse – even when closed! All units come fully assembled; no electricity or batteries required.
Solar Louver: Adjust Solar Powered Opener sensitivity by turning the knob. Tighten the knob to open the vent at a lower temperature. Vent opens automatically as the greenhouse warms.
Manual Louver: Pull cord to open and close.
Note: Solexx Greenhouse Kits come standard with the Manual Louver (HV-34-M). Solar louvers can be substituted at an extra cost.
Also Note: These louvers open just as they are pictured. They are designed to shed water, let in light, and increase air flow – which they do – but they do not open as wide as you might think.
HV-34-S (solar); HV-34-M (manual) Easy Flow Louver
Greenhouse Circulation Fan

Strong air circulation supports healthier plant growth. Variable speeds; maintenance free; energy efficient; easy installation; adjustable mounts. Designed for greenhouses.
HV-40 & HV-41: 8″ & 12″ Circulation Fan
Note: I personally own the little 8″ fan and it packs a lot of power into a small size. These fans are safe for operating in damp environments, are protected by a sturdy cage, and are a heck of a lot better choice than a common household fan. I found the directions for installation a bit confusing – but you are basically bolting a rather heavy appliance to a support with a bracket (in our case, a wooden frame). They can also be bolted to the Solexx framing. They can also be bolted to the ceiling. I would not consider it "portable;" however, it can be adjusted to point in different directions. The small fan does not have variable speeds. Some people install two of them at different ends of the greenhouse. So far, the one fan in our 12′ x 16′ growing room is doing great, along with vents. I've found out the hard way, adequate air flow is one of the most important things to provide in a greenhouse!
Greenhouse Exhaust Fan
Greenhouse Exhaust Fan
Powerful exhaust fans for large spaces
This high-powered fan provides rapid air exchange. Galvanized steel frame for less rust and corrosion; thermally-protected motor; thermostat and wiring for 115v; 760 CFM. (Also available in 1250 CFM in 16″ & 20″ sizes).
HV-50: 12″ fan (760 CFM); HV-51 and HV-52: 16″ and 20″ Exhaust Fan (1250 CFM)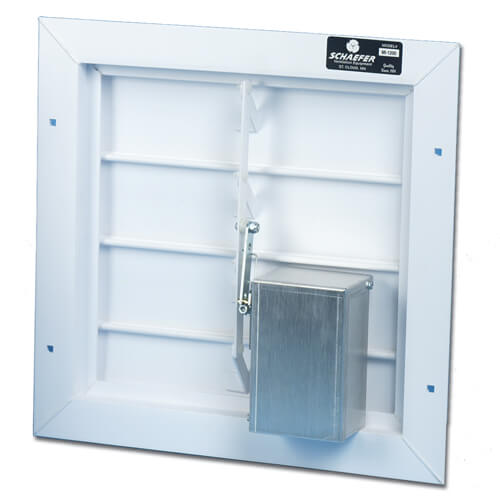 Solexx greenhouse intake shutter (HV-60)
A perfect companion for your exhaust fan
These intake shutters are wired to your exhaust fans. They open and close automatically when the fans turn on and off. Constructed of exterior-grade PVC, the entire unit is designed for strength and durability; nylon bearings never need lubrication and will not corrode.
Eliminates having to manually open and close vents. Particularly valuable in regulating air flow and temperatures when you are not there to monitor conditions.
Comes in 3 sizes: 12″, 16″, and 20″ square
HV-60, 61, 62: Motorized Intake Air
SHELVING
Recommended Shelving for Solexx Greenhouse Kits
Solexx Shelving Packages
Plants, soil, water, large pots = lots of weight. These sturdy wire racks will support the load while providing drainage and air circulation.
(Speaking from experience, you do NOT want all your plant seedling trays to fall on the plants below them because of something you thought might work!)
These sturdy wire racks are designed exclusively to fit Solexx greenhouse bench frames. They are also made to resist rust and reflect light.
Side shelves measure 29″x94″ when assembled. Packages come in 8-ft lengths in packages of 2, 3, 4, 4.5, 6, 9, and 13 units.
Refer to table above for shelving options.
All packages include mounting ties for simple assembly and installation.
(Please note that product HN-18-8-2 is only used for the back walls in the 12-ft Oasis and Garden Master greenhouses. Assembled shelf kit measures 24″ x 94″. Each greenhouse holds 2 shelf kits.)
Side shelving units are designated HN-19-8-#.
Shelves are included in all Deluxe greenhouse kits. Note in the photo how they are an integrated part of the greenhouse framing, which adds to the overall strength of the structure!
TIE-DOWNS
Tie-Down Kits:
Hold it down in strong winds with the easy-to-install kit. Twist the anchors into the ground every 8 feet and attach the J-hooks to the greenhouse frame. Connect the frame to the anchor with turnbuckles. Disconnect if you want to move it. Comes in bundles of 4 or 6.
(Note: The 30-inch anchors have been discontinued.)
HN-10; HN-15 Anchor Tie Down Kit
SHADE CLOTH
Black Greenhouse Shade Cloth:
Do you find you can't use your greenhouse as much in the summer because of excessive heat? This reusable black polypropylene 55% shade cloth filters out excess sunlight and lowers the temps on those scorching summer days. Lower temps also prolong the life of greenhouse panels. Reinforced, hemmed edges; grommets are spaced every 4 feet.
Comes in several sizes:
8'x10′
8'x12′
8'x16′
12'x12′
12'x16′
Custom order
HV-91-99 Black Greenhouse Shade Cloth
FLOORING
Greenhouse Flooring
Eliminate weeds from your greenhouse floor. Durable black polypropylene; easy to install; includes wire stakes; allows water drainage. Custom orders available.
Comes in the following sizes:
10'x 10′
10'x12′
10'x16′
10'x24′
16'x16′
16'x20′
HN-29-35 Greenhouse Flooring
HEATERS
Portable Electric Heater – perfect for most 8′ and 12′ units.
Reminiscent of milk house utility heaters, this durable heater will keep your greenhouse warm and plants safe from frost during times when an external heat source might be needed. Just plug it in.
Heater adjusts to operate only when needed to conserve electricity (knob turns from low to high)
Heavy-duty fan distributes heat
Heats up to a 400 sq. ft.
Maximum 5200 BTUs with a 1500 watt, 1300 watt, or fan only setting.
Measures 15 1/2″H x 10″W x 7″L, with a 5-1/2 foot cord.
Requires 120v 3-prong outlet.
HH-64 Portable Electric Heater
---
List of Accessories Included in Greenhouse Kits
* * * * *
Prices
Solexx Accessories: 2022 Price List
Description
Item #
Price
Ventilation
Closeable Base vents (set of 4)
HV-20-4
$59.00
Closeable Base vents (set of 6)
HV-20-6
$79.00
Solexx Louver with Solar Opener
HV-34-S
$210.00
Solexx Louver with Manual Opener
HV-34-M
$120.00
8" Circulation Fan
HV-40
$210.00
12" Circulation Fan
HV-41
$269.00
12" Fan 760 CFM w/Thermostat
HV-50
$349.00
16" Fan 1250 CFM w/Thermostat
HV-51
$399.00
20" Fan 1270 CFM w/Thermostat
HV-52
$449.00
12" Motorized Intake - Air
HV-60
$299.00
16" Motorized Intake - Air
HV-61
$349.00
20" Motorized Intake - Air
HV-62
$369.00
Wire Racks for Bench Frames
8' Back Shelf Package (2 pack) - 12' Garden Master & Oasis only
HN-18-8-2
$279.00
8' Back Shelf Package (2 pack)
HN-19-8-2
$279.00
8' Side Shelf Package - (3 pack)
HN-19-8-3
$370.00
8' Side Shelf Package - (4 pack)
HN-19-8-4
$480.00
8' Side Shelf Package - (4.5 pack)
HN-19-8-4.5
$540.00
8' Side Shelf Package - (6 pack)
HN-19-8-6
$740.00
8' Side Shelf Package - (9 pack)
HN-19-8-9
$1,080.00
8' Side Shelf Package - (13 pack)
HN-19-8-13
$1,530.00
Tie-Down Kits & Anchors
15" Tie-Down Kit (4 Anchors)
HN-10
$77.95
15" Tie-Down Kit (6 Anchors)
HN-15
$92.95
Shade Cloth Options
Black Shade Cloth, 55% Shade (Polypropylene): 8' x 10'
HV-91
$59.00
Black Shade Cloth, 55% Shade (Polypropylene): 8' x 12'
HV-92
$64.00
Black Shade Cloth, 55% Shade (Polypropylene): 8' x 16'
HV-93
$85.00
Black Shade Cloth, 55% Shade (Polypropylene): 12' x 12'
HV-94
$95.00
Black Shade Cloth, 55% Shade (Polypropylene): 12' x 16'
HV-95
$125.00
Black Shade Cloth, 55% Shade (Polypropylene): Special Order, per square foot
HV-99
Call for quote: 360-477-2786
Greenhouse Flooring Material:
Greenhouse Flooring 10' x 10'
HN-29
$55.00
Greenhouse Flooring 10' x 12'
HN-31
$59.00
Greenhouse Flooring 10' x 16'
HN-32
$77.00
Greenhouse Flooring 10' x 24'
HN-33
$99.00
Greenhouse Flooring 16' x 16'
HN-34
$104.00
Greenhouse Flooring 16' x 20'
HN-35
$119.00
Heating
Portable Electric Heater
HH-64
$79.95
These are prices as of January 1, 2022, and are subject to change. I wanted to give my customers a good idea of what something costs, because that is the info we often first look for and often determines what we can or cannot do. Give me a call at 360-477-2786 or an email at blythe @ barbolian . com (without spaces, of course) to see if we have any specials going on that are not listed here. Thanks!
* * * * *
Questions? Want to Order?
To order Solexx greenhouse kits, materials, and accessories, contact:
Blythe Barbo 
Authorized Dealer of Solexx Products
Barbolian Fields
3623 Woodcock Rd.
Sequim, WA 98382
ph. 360-477-2786
email: blythe [at] barbolian [dot] com
* Some items on this page are affiliate links that give me a small kickback at no cost to you. Thank you!