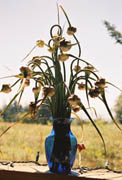 I have been getting a lot of questions about garlic scapes lately – and in checking my blog stats, a lot of people are searching for recipes using scapes. Scapes, those curly flower shoots from the hardneck varieties of garlic, arrive just as we are running out of our green garlic harvest. My favorite way to use them is in pestos with parsley, olive oil, & parmesan cheese. They are also great in hummus and other dips. Cook them very gently and pair them with things that aren't too overpowering so their delicate flavors shine through. They can be used like green onions in salads – and are particularly good in bean salads. They are great in every combination of stir-fry imaginable. Toss them into omelettes. Roast them with asparagus.  Chop them up over fish. Infuse them in butter. The possibilities are endless! And if they get too tall and tough to eat, cut them and put them in a vase!
This afternoon, I strolled (ok – hobbled – but that's for another post) through the garden and saw a very simple, fast, easy, and gourmet (!) dinner before me: first-of-the-season garlic scapes, first snow peas, salad greens, & thinnings – all tossed together in a tortilla. Here's the recipe (loosely defined — I don't really believe in recipes, just guidelines):
Spring Garden Tour Tortillas
A dozen garlic scapes, coarsely chopped
Several handfuls of snow peas
A few beet thinnings – some with little beets (chop stems; separate out leaves)
A few chard thinnings (chop stems; separate out leaves)
Some radish thinnings (separate leaves)
Numerous leaves of red & green leafed lettuce (we have tons!)
Numerous leaves of spinach
Also used: some leftover chicken, chopped (optional – this could also be meatless), some olive oil,  a little balsamic vinegar, and some tortillas.
Just an aside – I don't believe in wasting anything. I feed scraggly hairy roots to my worms, but eat just about everything else. Stems are good. Radish leaves loose their prickles when lightly cooked. But the idea here is to get creative with whatever you have on hand. Here we go:
Heat a frying pan hot – toss in a little olive oil – and then toss in the scapes, peas, the little beets, & stems from the beets & chard. Cook a couple minutes at most.
Snack on the radishes while you cook everything.
Toss in the chicken, give it a stir, & the chopped greens (beet leaves, chard, radish tops). Sprinkle with a little balsamic vinegar – not much, because it can be overpowering – just enough to give it a little tang. Stir & cover.
As soon as the greens are wilted (about 1 minute), fill a tortilla, top with fresh lettuces & spinach, and eat. The wilted greens add a bit of moisture to the mix, so you might have to tilt the pan to let it drain to one side. Cheese would also be good, but some of us are lactose-sensitive, and it is just fine without. Chopped nuts might be nice. Too bad I forgot chopped chives!
Fast – fresh – fabulous – fun – several reasons to grow your own or buy from your neighbor!