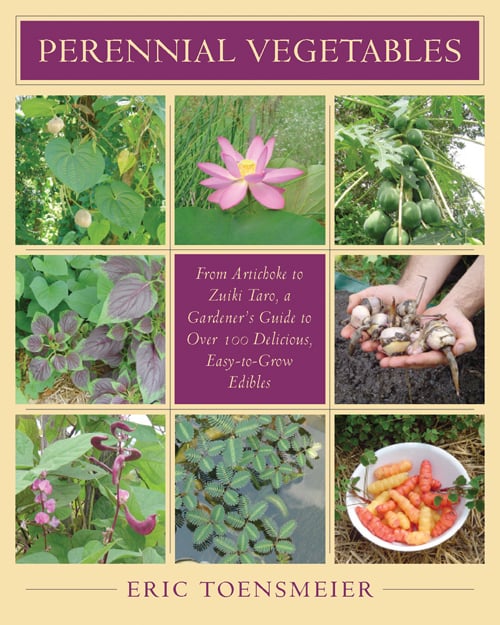 Perennial Vegetables – $35.00
Retail Price: $45.00
You Save: $10.00
from: Chelsea Green Publishing
2007 Foreword Magazine Book of the Year Awards
Gold Winner, Home and Garden
The garden that never stops giving.

There is a fantastic array of vegetables you can grow in your garden, and not all of them are annuals. In Perennial Vegetables the adventurous gardener will find information, tips, and sound advice on less common edibles that will make any garden a perpetual, low-maintenance source of food.

Imagine growing vegetables that require just about the same amount of care as the flowers in your perennial beds and borders–no annual tilling and planting. They thrive and produce abundant and nutritious crops throughout the season. It sounds too good to be true, but in Perennial Vegetables author and plant specialist Eric Toensmeier (Edible Forest Gardens) introduces gardeners to a world of little-known and wholly underappreciated plants. Ranging beyond the usual suspects (asparagus, rhubarb, and artichoke) to include such "minor" crops as ground cherry and ramps (both have found their way onto exclusive restaurant menus) and the much sought-after, antioxidant-rich wolfberry (also known as goji berries), Toensmeier explains how to raise, tend, harvest, and cook with plants that yield great crops and satisfaction.

Perennial vegetables are perfect as part of an edible landscape plan or permaculture garden. Profiling more than a hundred species, with dozens of color photographs and illustrations, and filled with valuable growing tips, recipes, and resources, Perennial Vegetables is a groundbreaking and ground-healing book that will open the eyes of gardeners everywhere to the exciting world of edible perennials.
About the Author, Eric Toensmeier
(Descriptions from Chelsea Green Publishing)
My Take:  I do not own this book – but I was fortunate to be able to check it out from our local library (We live in a rather small town, and I was very surprised that they had it – There was a long waiting list!). I DO have Martin Crawford's book on Growing Perennial Vegetables. This book is perhaps more comprehensive than Crawford's; however, Crawford's book is more applicable to my climate, which is why I chose it over this one. On the other hand, most people are not from the UK or the Pacific Northwest, and I am sure most folks will find lots of plants here that they would like to try and information on them that they can't find anywhere else. Most importantly, I really liked how Toensmeier organizes this book according to plant families. It really illuminates how some plants might be similar and require similar growing conditions, which is always a consideration when you are trying to design guilds or are working with unfamiliar species. There is too much information in this book to keep checking it out from the library. Yes, I would like to add it to my bookshelf.
Purchase Perennial Vegetables
from: Chelsea Green Publishing