September 8, 2017:
Rain! The sound is thunderous on the canvas roof of our pop-out camper. My husband and I are like a couple of kids in the summer, camping out in our own backyard. We huddle in our bags in part wonder and a whole lotta gratitude that we have such a fancy "tent" in such a downpour.
Rain! In these wee hours before dawn, it is an orchestra to our ears. We have had none since June 9. Three full months.
It amounts to only 0.08" – that is 8 one-hundredths. Not even 1/10th of an inch! I can hardly believe it.
Still….
The willows bend low in humble gratitude under the weight of drops that still glisten on the leaves. I have watched the leaves of the willows yellow, worrying whether they had found enough water or whether they are just turning inward with the approach of fall.
The trees continue to drip, creating their own nutrient-rich rain after the primary storm has passed.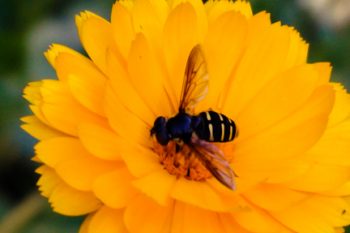 Ahhh – the garden feels so cleansed, and we can feel it in every plant. Everything is bright. Alert. The bees are already out and busily working the flowers, hurrying to bring in the last of the nectar and pollen.
These last days of summer, wherein before, we complained of the heat, now we want just a few more days in which to ripen the squashes and tomatoes and corn. We hurry to bring in the harvests of blackberries and seaberries and wonder what we should do with them all. The pears are overripe on the trees; the apples are beginning to fall; and all this abundance reminds me of how privileged we are to live here, especially when at the opposite corner of the country, people are boarding up their homes and businesses and have nothing to hold on to but each other and a prayer in the face of the wrath of hurricanes.
Life is always full of such extremes, inequalities, and things over which we have no control. It is upsetting to feel so helpless in the face of such news reports, and I often have to turn off the sound bites of political hate, especially at a time when the world so needs humanity. My garden is my sanctuary – it keeps me grounded in the tactile senses of the present, always with an optimistic thought to the future. It keeps me in a state of wonder at the small miracles I witness every day. It also keeps me incredibly busy!
Ahhh – but in this moment – the swooning scent of lavender! I brush by a shrub on my walk back to the house. I always leave the flowers for the bees, and although past their prime, they still release a heavy fragrance after this rain. On my way, I pick yellow and orange calendula, red clover, and lilac bergamot blossoms. I will dry them for teas and infusions and oils.
I take a deep breath. The air is pure, rather than mingled with flakes of ash that have recently drifted in from the wildfires to the north and east, fires stong enough to turn our sun and moon an eerie glowing red, our own version of nature's fury. I am thankful the rain has settled particulates back to the earth from whence they came. The rain has cleansed and calmed. I stop and listen to the songs of birds.
We welcome the beginning of the Pacific Northwest gray and drizzle season as we transition toward autumn and Nature's rather riotous chorus before the quiet of winter.
"To say it was a beautiful day would not begin to explain it. It was that day when the end of summer intersects perfectly with the start of fall."

– Ann Patchett
~ * ~
Postscript: Such a terrible fire season throughout the Northwest this year! It is now early October, and wildfires are now raging throughout California, burning hundreds of thousands of acres. Our hearts go out to all the people, animals, and forests in its path. We pray for rain and a respite from the wind. Our heartfelt condolences to all those who have lost loved ones, both in California and in Puerto Rico, where people are still trying to put their lives back together.
~blythe at Barbolian Fields