Do you keep a record of what is bloom throughout the year? Since we started providing homes for bees, I have become much more aware of what is blooming when – particularly during those months on either end of the warm season, when the weather is unsettled and food for them can be scarce.
It seems many of the first to bloom are some of our natives. Perhaps it is Nature's way of taking care of her own. If anyone needs a reason to plant native plants: the Red Flowering Currant should suffice!
If there is a color that represents the month of April, I would have to choose Brilliant Yellow!
Oh, Mahonia – I think I would name a daughter after you if I were given the chance again – the harbinger of spring – nourishing the bees as we emerge from winter; feeding feathered friends through the fall – roots and bark providing strength to those who understand their powers – Mahonia, I love you! Another great reason to plant natives!
Speaking of yellows – every year, this forsythia seems to get more brilliant! Maybe it is the contrast with the drab gravel roadside where it somehow survives – but oh my! What a greeting!
And if we're talking about yellow – we HAVE to mention Dandelions: the King of yellow flowers! It is my sincere belief that one can NEVER have too many Dandelions! WHY, oh WHY would anyone think to spray with a "weed killer" these beautiful flowers that give us such abundant joy??  Take one bite of the glorious blossoms – add the nutritious greens to a salad  – make a fermented flower wine – or just shine them under the chin of your favorite munchkin….  one can only shake one's head in bewilderment at the folly of not appreciating such a gift of Spring!
If we are talking about "weeds," we also have to give a nod to the Purple Deadnettle. This is a flower in the mint family that is often overlooked, perhaps because it is so small. But it strikes me that the flowers least attractive to humans are often the ones most attractive to pollinators. The plant has a tendency to cover a lot of ground; however, I avoid pulling it to make room for other things until other flowers are in bloom to supplement the diet. In particular, I see a lot of bumblebees around the purple deadnettle. I used to confuse it with henbit, and the two are quite similar. Apparently they are both edible, although I have not tried them; unlike nettles, they do not sting.
However, if there were but one flower to represent the call of spring, I suppose it would be the daffodil trumpet. If you have a chance to make it to Mount Vernon for the Tulip Festival, I highly recommend going just a bit early to see the fields of daffodils. That said, I have to say – I have never seen a bee on a daffodil. My feeling is that they are so manipulated by the flower industry for qualities of beauty and symmetry rather than for pollen and nectar, that they are no longer a viable food source for our pollinator friends. (I have a definite bias if we are talking about bulbs that don't require pollination: at least we can eat garlic!) Even so, daffodils bring joy – and I have read that they help to deter grass – which are two good reasons to plant them anyway!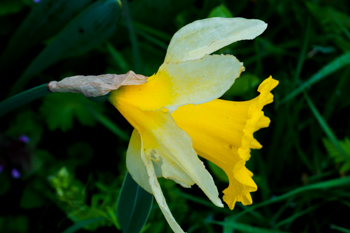 But to me, the dandelions, of them all, trigger a signal. After the huge flush of dandelions, seemingly overnight, everything else bursts into bloom: the cherries and plums, followed by the apples, and the air is alive with the buzzing of bees.
Ah yes! Now THAT is the sound of spring! Music to our ears!
~*~
Here is a list of what was blooming on our back acre in late March / early April (just before the cherry blooms – we are a good week later than folks in town).
[su_row]
[su_column size="1/3″]Earliest Blooms:
Cornelian Cherry
Crocus
Currants – red & black
Currant, Red Flowering (Native)
Daffodil
Dandelion
Forget-me-not
Forsythia
Goumi Shrub
Hazels / Filberts
Heather
Honeyberries
Hyacinth
Korean Bush Cherry
Lamium "Pink Pewter"[/su_column]
[su_column size="1/3″]
Lingonberries
Lungwort
Magnolia
Mahonia / Oregon Grape
Mustard Family/Brassicas
Nanking Cherry
Pansies
Periwinkle
Phlox
Primroses
Pulmonaria
Purple Deadnettle
Rock Cress
Rosemary
Willows[/su_column]
[su_column size="1/3″]Additional Early- to Mid-April
Apples
Blueberries
Brassicas
Cherries
Elder
Gooseberries, assorted
Hazelnut: Contorted
Highbush cranberry / American Cranberry
Huckleberry, Native
Japanese Andromeda, Pieris
Jostaberry
Miner's Lettuce
Money Plant / Lunaria / Honesty
Plum / Italian Prune
Quince – Flowering
Saskatoon
Strawberries
Sweet Cicely
Tulip
Viburnum, Manchurian
Woodruff, Sweet [/su_column]
[/su_row]

More photos in the Garden Walk pages – and I keep adding pics as time permits!