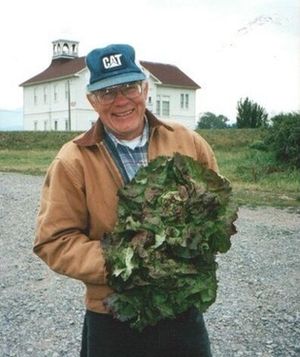 I'd just like to remind everyone that Nash's Produce is hosting a farm tour this coming weekend through the PCC Farmland Trust. It's a great opportunity to see how a team of extremely knowledgeable, hard-working folks can organically farm 400 acres and offer so much to our community. Think you can't grow much in winter? Think again. Nash's fields are continually in motion – out comes one crop, in goes another. He makes full use of green manures, compost, and crop rotations. He's even experimenting with several kinds of grains. This morning I ground some of his triticale and made the flour into waffles. Outstanding! Later I swung by the Dungeness Valley Creamery for some raw milk, looked across the road at one of Nash's fields, and saw probably 100 trumpeter swans! Gorgeous! Seriously, sometimes I just have to pinch myself.
But back to the weekend bash at Nash's: you can register for the event on the PCC website. I think tomorrow is the last day, but you could call to make sure. My understanding is that not only do you get a close-up tour of Nash's 400 farmed acres, including the Delta Farm, which was PCC's first preserved property, but also a meal goes with the deal – and you won't get anything fresher than that!
Go to Nash's website to see more of what he's got going on around the farm (and some good recipe ideas, too). Nash has a sustainable operation that includes a well-fed herd of pigs. Very fun to watch their antics! Nash's winter farmshare program is starting up later this month and is an excellent deal. Personally, since I grow a lot of our own food, the Nash Bucks is a better option for us — pay $350 upfront and get $400 worth of fresh organic produce that you can buy whenever.  You get a discount and the farm crew gets added money upfront, which is particularly appreciated when they are gearing up for spring plantings.
And by the way, if you're in the area, drop in and see the Dungeness Valley Creamery at 1915 Towne Road. The Associated Press recently released a very misleading article about e. coli bacteria that were implied to have come from the Brown family's cattle. In reality, there has never been ANY e. coli found in the Dungeness Valley Creamery raw milk. I drink it all the time and have never had any problems. My husband is lactose intolerant and does just fine with the raw milk, which, as Jeff Brown explains to me, is because the lactase enzyme that helps you digest lactose is not destroyed through pasteurization. Their dairy and bottling area is impeccable. Their cows are open pastured and treated like members of the family. This milk is obviously nutritious, real food.
Unfortunately, the Washington State Department of Agriculture (WSDA) is not held accountable for the damage. Such action seems unconscionable, but apparently they can get away with it. The Browns ended up having to throw away hundreds and hundreds of gallons of good milk. They have no recourse other than to keep doing what they do best: produce quality milk. Interestingly enough, outside sales might have dropped, but local folks who know the Browns and know what an outstanding dairy they run, came out in record numbers to support them. So, if you're in the area, if you're visiting the Delta and other farms so critical to the security of good food in our region, stop in at the Dungeness Valley Creamery while you're at it and show your support.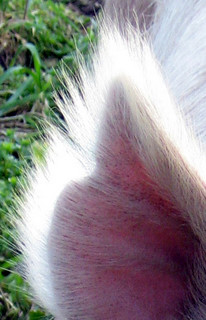 It's no secret that the Sequim-Dungeness Valley has practically been inundated by new housing developments with expansive lawns, box stores, and parking lots. Truly, we are very fortunate to have the farms we still have. We can save the future of our region by supporting our local farmers, donating to organizations such as Friends of the Fields, a nonprofit dedicated to saving farmland, and spreading the word as to the importance of having access to locally grown food. We are at a crossroads. Where does your food come from? And do you know where your children's children's food will come from? We're losing land to development right now at the rate of 1000 acres/year. It's a valid question.
Meet Nash Huber and his crew. See up close how he does it. Stop in and meet Jeff and Debbie Brown and Ryan and Sarah Brown McCarthey. Meet the hands that feed us and thank them first hand.