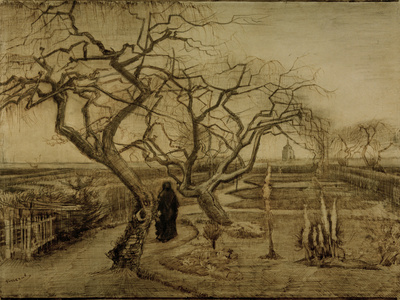 It's Garden Planning Season, and you know what THAT means: deep introspection to determine what worked and what didn't, because unless you incorporate what you've learned into this year's garden, you will be going forth with an impending sense of doom….
The winter is not that dark. Seriously. Lighten up already!
Actually, here at Barbolian Fields, we had some resounding successes last year! The bees, bee plants, rainwater catchment, spiral gardens, the use of assorted stakes & trellises, scything and mulching, the garlic crop, and an assortment of unusual trees, shrubs, berries, perennial vegetables, and herbs (or at least, "unusual" to me) – there were some real highlights, many of which I have shared through posts and pictures. On other things, success was, well, not so obvious…. We call them "learning opportunities." Other areas still remain in the Grey Zone (a garden isn't built in a day, after all).
So as I was sitting here doing a little armchair gardening, since it's too cold out there today to get my hands in the real dirt, I was thinking about what I might do to make this year's little horticultural experiment more miraculous than ever. February can be such a nasty month – and I realize I have no right to complain here! But it's sunny outside (don't believe all the "Sunny Sequim" hype! We get a lot of clouds here! We're right by the saltwater!), and I should be taking advantage of that sunshine. I should be pruning, at the very least. But then I go out there and the wind is just like little sharp knives, and I think, "This is crazy! I should be inside daydreaming!"
No! That's not what I think! I think, "Dang! So much to do, but I am going to have to shift gears here!" and "More coffee will help me get motivated. Instead of teetering on ladders, I could be sitting in a warm house, writing a blog post, typing faster, and saying less!"
And that is exactly what I did. I created a table of pros/cons, good things/bad things, ideas/steps forward; and then I rearranged the columns into blocks, because I'm nerdy like that and it seemed more logical; and then I started color-coding ideas, because some of us are more visually oriented, and it's obviously more fun; and then I stopped and said, "Wait a minute…."
Suffice to say, by the time I was done, it was another one of those marathon posts that I am not convinced anyone kicks back and fully reads. So I will try to break it up into chunks in the hopes that someone out there might still find it useful.
In the meantime, here is the short version:
| | | |
| --- | --- | --- |
| Worked | Didn't Work | Lessons Learned / Path Forward |
| Bees |   |   |
| Purchased a 3-lb package and successfully installed it, although our methods were a bit unconventional! | They swarmed 2 weeks later! We had numerous swarms all summer! | Not purchasing bees this year. We are up to 6 hives and holding; so far, so good. |
| Bee Feeder | | |
| Hard candy helped the original hive through the winter. We fed the new bees and subsequent swarms sugar syrup, just to get them started. | A central bee-feeding station seemed like a convenient idea, but ended up being a fast-food crutch! They went crazy! | Be careful about how you feed the bees! Let them find their own food if at all possible! |
| Bee Flowers | | |
| We grew over 250 kinds of plants, which provided the bees something to forage almost every month of the year. Side benefit: SEEDS! Wow! Such unexpected abundance! Check out our Seed page! | I was reluctant to pull up flowering weeds ("bee food!"), so I did not plant some of the veggies we wanted to grow. | Trust the bees. They will find food. Stick with the garden plan. |
| Rainwater Catchment | | |
| Two 250-gallon containers catch rain from the metal barn roof and route it to a couple places in the garden. | Still not enough water when you need it! | The water needs to be better distributed and stored. More needs to be done with mulching and water conservation. I am reading up on this. |
| Spiral Gardens | | |
| This will be the 4th year on four spiral gardens; each has grown more beautiful every year. | Spiral gardens tend to settle into a mound. A 5-food diameter is still not a lot of room to plant a diversity of plants, and care needs to be taken that some don't become overly dominant. The difference in microclimates created with the spirals is actually fairly minimal. | Plant more spirals! They are cool! A strawberry spiral is a must. Maybe one for cucumbers, or an assortment of bee flowers. Integrate with good companion herbs. Maybe an herb spiral right by the house, where it will be handy for summer cookouts. |
| Stakes & Trellises | | |
| It's easy to get creative with tree prunings, tee-pee configurations, cages, & etc. I put 2 pieces of a picket fence together to form an A-frame ladder. Bonus: Birds love to use them as perches! They eat nearby bugs & poop on whatever is below! | If you create a perch to hold up a berry bush, guess who is going to eat all your berries? Be sure to set stakes firmly in ground! The weight of the plant and a strong wind could topple everything over! | Prune back the gojis so they don't require staking! Be more strategic with stake placement! Not all have to hold up a plant! The birds really love the perches out of old tree branches, and the corkscrew willow is particularly beautiful! |
| Scything & Mulching | | |
| The scythe is the answer to growing and harvesting your own mulch with relative ease! | Emphasis on "relative!" It's still a fair amount of work! It is hard for me to not overdo it! And you have to make time for it. There never seems to be enough mulch! Or enough time! | Making scything a daily practice (more or less) is like a good morning warm-up that over time can make a huge difference. I'd like to grow a small plot of oats and quinoa. I can almost feel the scythe slicing through the even patch of stems like butter… |
| Garlic Crop | | |
| I cut way back on the number of bulbs, which allowed me to take better care of the ones I grew and gave me more time for other gardening, harvesting, and preserving tasks, as well as more time with my family. | Aggggh! Ran out of garlic waaayyy too soon! Sold out so quickly, I had to turn many of my regular customers away! Sorry! | I planted more than last year, but the crop is still limited. I'd like to build up more next year with plantings around the edges of the garden and around plants susceptible to underground predators. |
| Unusual Plants | | |
| So many unusual plants and perennial veggies – and a few fun annuals, too! Many of the shrubs are starting to get established. Tasted my first beach plum, medlar, aronia, goji, goumi, and seaberries! | There might be a reason some of these "unusual" plants aren't planted very often! And some might just be really slow growers. Hope to see them fruit in my lifetime! | I have a long wish list of plants I'd like to grow. I have ordered some seeds of medicinal herbs; however, shrubs and trees tend to be a bit expensive. For now, we will increase our plantings through cuttings of plants we already have. |
Of course, there were many more observations, but these seemed to be the most important. I could write a blog post on each one – in fact, I almost have – and some of that I will be sharing in the days to come.
So here is my advice, not that you've asked for it, but it's my blog, so here ya go: Yes! Take advantage of these cold winter days to think about what really worked and what didn't in the garden last year. Don't listen to those Doomsday Forecasts! Spring WILL come! It always does! It has something to do with the Earth wobbling on its axis. And don't feel guilty about daydreaming! It is time well spent. Because those of us who do not learn from history are doomed to repeat it – and gardens will make that glaringly obvious to you! (speaking from experience here!). On the other hand, there is also something to be said about those who DO learn their history and are STILL doomed to repeat it – but that's for a different couch.
Your turn! If you have a chance, share with me what worked (or not, as the case may be) in your own little postage stamp on the planet. The best thing about blogs is that we share and learn from each other!
You stuck it out this far?
Thanks!
~blythe