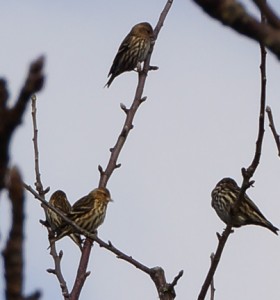 On this winter solstice, I cannot help but wonder – why does not our calendar begin at this turning point of darkness into light? And now that our days will begin to get longer, why are we not entering "spring?"
It seems to be the season of extremes – wind, heavy rains, even snow for us so close to sea level, and yes, also sunshine, all the more appreciated. We can't help but smile when we see the bees venturing out.
Despite the shortened days, the garden is hardly quiet nor dreary, but rather, alive with birds. They are particularly busy at the feeder, of course, which I keep supplied with seed, suet, and chopped apples – but also elsewhere in the garden, flitting from one shrub to the next, calling from treetops. In my garden strolls – I was surprised to see how many fruits are still available for them to eat. (Note to self: plant more native plants!)
And lest we think winter is simply a skip and a jump into spring, let me share this picture of late November, when snow muffled quiet the orchard and all the surroundings (I was glad to have so many dense shrubs under which the birds could find shelter).
We are, indeed, on this longest night – this silent night – living in dark times. All the more reason to light a candle and to carry that light in our hearts. It is, for good reason, also the season of hope.
So on this eve of the New Year, no matter what the date we begin, here's to making the world a better place!
And what have we here? I do believe those are buds!
From Barbolian Fields, we wish all our readers a very happy holiday season and a solstice full of light and hope.
Merry Christmas
Peace on Earth