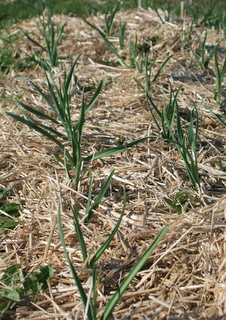 February update here at Barbolian Fields: The garlic is growing strong!
Gosh, it's great to see those shoots coming up again! I mean, we always know they will, but somehow there is always this little voice that says, "what if they don't…."
One thing I did differently this year than in previous years is that I put on a heavy layer of straw mulch. Using mulch seems to be the current mantra of good gardening practices, but my response in the past has been, "Well, that depends…."
Yes, mulch keeps in the moisture. In our neck of the woods, it also keeps in the molds – which can be a real problem when it comes to growing garlic in the Pacific Northwest. It also provides a safe haven for critters – voles, earwigs, slugs, to name just a few. Stop the weeds? Not necessarily. In fact, it sometimes encourages weeds and even seeds a few more, depending on the kind of hay or other mulch applied.
So – I was a bit nervous when I started piling on the old hay, which was said to be "as seedless as you're going to get without paying a hefty price."
When I planted the garlic last October, it was hard to tell what kind of winter we would get. Around here, we can get a series of damaging freezes and thaws rather than a long freeze that keeps everything dormant. I figured the hay would protect it from these variations. The more I thought about it, the thicker I piled it on. I heaped it on thick.
As it turned out, we had one of the warmest winters on record. There was a stretch when it did nothing but rain and rain and rain – and the mulch seemed to help filter all that water and prevent erosion of the beds.
I worried that they might compact too much and the garlic wouldn't come through (that IS what it's supposed to do to weeds, right?) – but LOOK! There it is! Coming on strong!
It's going to be a really good year! Stay tuned!