What Is Solexx?
Solexx is a twin-walled high-density polyethylene plastic (HDPE) covering for greenhouses and other structures, manufactured by Adapt8, Inc.
Solexx is arguably the best material out there for your greenhouse. We built our greenhouse in 2015 (completed in November), and I kid you not, I loved the stuff so much, I signed up to be a distributor. Having a decent greenhouse to work with has made all the difference for me, and although growing in a greenhouse environment has been (and still is) a bit of a learning curve, I love it more and more every day. Solexx is not, however, just for greenhouses. It is also great for patios, decks, or creating that ideal outdoor living space where you just want to hang out. I am strongly considering putting a hammock in our greenhouse. It is just SO nice in there.
Why Go with Solexx?
Solexx is made in the USA. Yay!
Solexx has the best insulation value in the industry (with a 2.3 R-value, panels have more insulation than 8-mm triple-walled polycarbonate); high heat retention means less temperature fluctuation, so it's easier on your plants; less need to heat or cool the greenhouse = significantly lower energy costs; lower energy costs = quicker ROI.
Solexx produces less condensation because of its higher R-value; plus, it does not require the use of surfactants to facilitate condensation runoff because the flutes in the material create a slightly ribbed surface that breaks the surface tension, thereby channeling any condensation droplets away from the roof.
Solexx provides 100% diffused light to plants, eliminates burning and shadows, and accelerates plant growth (plants are ready for transplant / market / harvest up to 25% faster!). Diffused light (unlike direct light) is scattered and bends around corners for a more even distribution of light on all sides of the plant and throughout the canopy; diffused light provides greater light coverage and results in faster, healthier growth.
Solexx provides full-spectral light while blocking out both the ultraviolet and infrared ranges, thereby maximizing photosynthesis and minimizing UV damage.
Solexx is easy to install:
– It can be cut with a simple utility knife- Overlapping panels can simply be screwed in place (or you can use "H-Channels" and clips)- It can be bent around corners and over roof peaks- It can be installed vertically or horizontally or a combination of the two (reduces waste)- It fits on 2-ft-, 4-ft-, and 6-ft-on-center frameworks- It comes in long rolls (up to 900 feet long) for fewer seams and/or custom-length cuts- It also comes in pre-cut panels for quick set-up- Kits have labeled parts to make assembly easy-peasy.
Solexx is super strong! It will not rip or tear in strong winds or hail storms. It holds up under heavy wet snow, which it easily sheds. It will not stretch from the weight of the snow. It is shatterproof. (Note: it is always important to tie down your structure and keep strong winds from getting under it! Solexx is powerful stuff, but Mother Nature and the laws of physics win!)
Solexx comes in 2 sizes: 3.5 mm and 5 mm.  The 3.5 mm is ideal for most environments. The 5 mm is better for high altitude or heavy snow areas.
Solexx is easy to clean and keep clean; it is scratch resistant, and in fact, is so smooth, that molds and mildews do not grow on it.
Solexx has a 10-year limited warranty against UV degradation. It has a much longer expected lifespan (15-20 years), and it does not yellow or lose light transmission with age, which is more than I can say for most of us.
Solexx costs less than other twin-walled options, especially when you factor in the energy savings from not having to heat or cool the structure as much during the extreme ends of the seasons.
Solexx is recyclable. Solexx panels are high-density polyethylene and have the same recycle number '2' as plastic milk jugs.
Facts on R-Values and U-Values
R-Value – the measurement of 'insulating ability' of the material. The higher the R-Value number the greater the insulation value.
U-Value – the measurement of 'heat loss' through the material. The lower the U-Value, the less heat is escaping.
The insulation (R-Value) of Solexx is over 25% better than that of poly film & polycarbonate! Add that difference to the lower amount of heat loss through the material and you can see why glass greenhouses, for example, are a bad idea (not to mention that the direct light and heat through glass can fry your plants!). It doesn't take long for Solexx to pay for itself.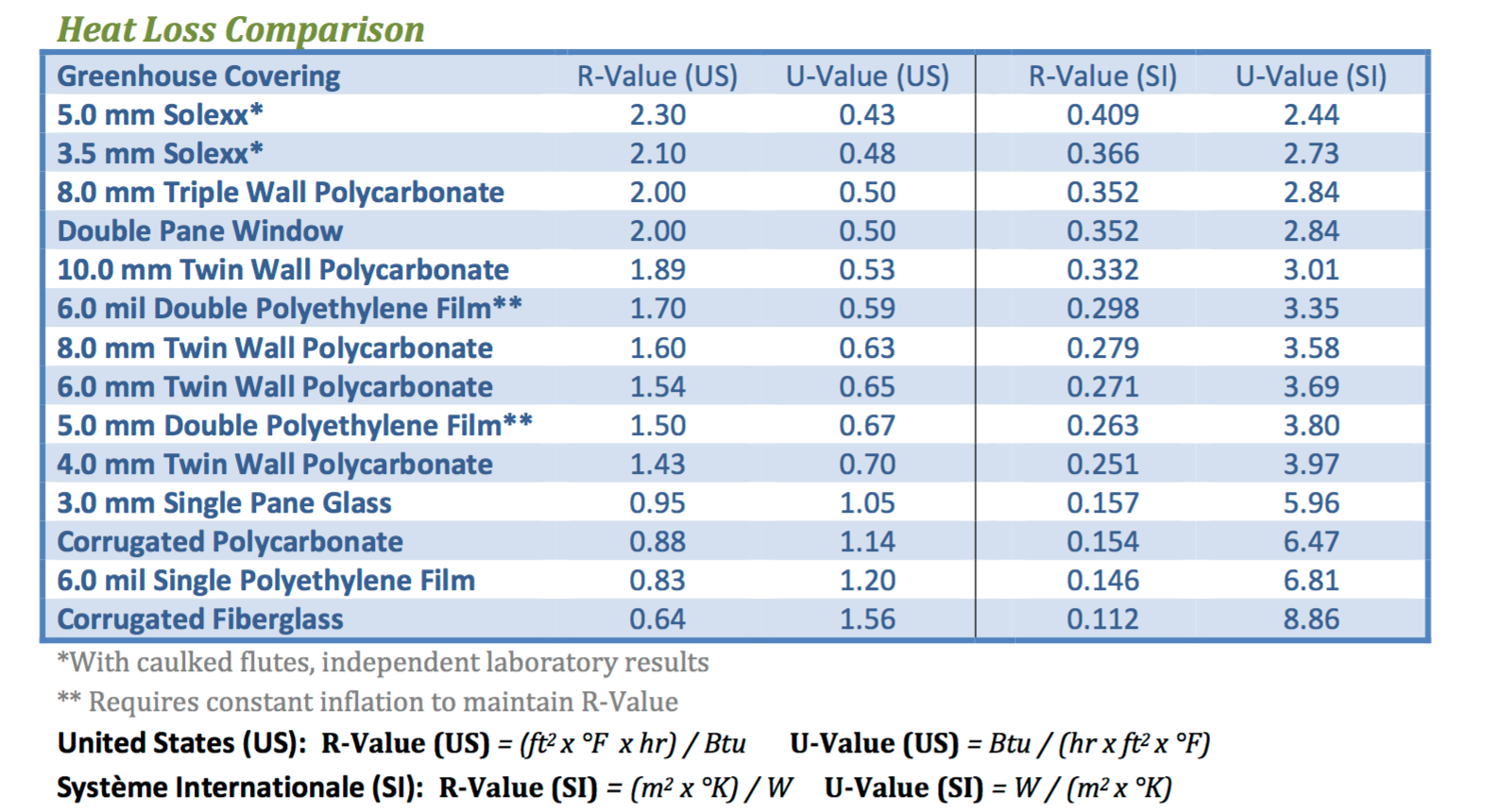 DIY or Greenhouse Kit?
Ok. This is where you really need to assess what you want, what you need, and factor in what you might need for the future, because the great majority of people wish they had gone with "something a little bigger."
About Greenhouse Kits
Greenhouse kits are easy to install and come in multiple sizes. Some important features:
The framework, made of a combination of composite material, PVC, and steel fittings, provides both stability and superior strength. This stuff is definitely strong.
Solexx greenhouses are proven to out-perform others in strong winds. Because the material is wrapped around the framework, as long as the structure is anchored down securely, there is nothing for the wind to get underneath, grip, twist, or otherwise lift off.
Kits are easy to assemble. The framework is pre-cut and color-coded. They can be assembled in a weekend.
The white framework reflects light (unlike dark frames or wood).
The composite material does not transmit cold the way metal frames do.
Shelves are designed to hold up to 500 lbs. That will support some large, heavy plants. Believe me, I know how important this is. I used some upcycled closet shelving in ours and one day I went out and found the whole thing down at an angle with my plants on top of one another on the ground. Sad day! Lesson learned!

Steel-reinforced hanging rods will definitely support a lot of potted plants!

Hanging rods are steel-reinforced. Check out these heavy dudes hanging from them like a couple of monkeys. Greenhouse is unaffected!

Other than a little wipe-down with soap and water once a year or so, no maintenance is required.
Built-in bench frames provide both strength and added growing space.
Kits come with a large 24″ x 12″ Easy Flow Louver air vent. This is an important accessory. We open our doors, but there are many times a vent would work much better, and we will probably install them this year.
Greenhouse kits are shipped for free in the contiguous 48 states. (Always a good bennie. Our apologies to Alaska and Hawaii.)
Deluxe Greenhouse Kits include additional accessories: wire shelving to fit the bench frames; solar louver opener; greenhouse base vents; tie-down kit.
(There is so much here, we gave it its own page. The above title is a link. Just click away!)
Of course, there are many reasons to go the DIY route and buy just the square footage you need.
Prices were slightly adjusted recently & new prices are now up.
Solexx Installation Guide: Tips and tricks to optimize your structure, whether a DIY project or a kit. This pamphlet gives lots of info on how to best optimize Solexx installation, including deciding on size and direction, rolling it out, cutting it, screwing it down, caulking, maintenance, and where to go for more technical support if you need it.
Our Story and What We Built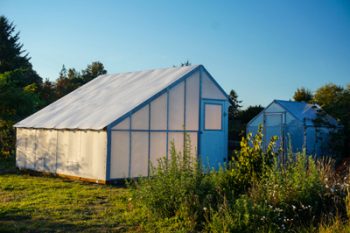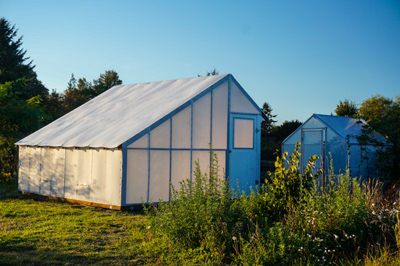 Despite the advantages of the kits, we went the DIY route for several reasons. 1) We already had the lumber for the framing. (Of course, lumber can rot, harbor molds and critters, and create shadows. There are pros and cons.)  2) I had a specific design in mind that was not available in the kits. I wanted a roof that was at a 60-degree angle to optimize the angle of the winter sun at our latitude, and I wanted an area along the back north wall (plywood) where I could store 55-gallon barrels full of water to absorb extra heat during the day that would then be given off at night.  3) I wasn't ready to jump up to a large hoop-house size for nursery production; I wanted something for our personal needs and a little bit more. We had the "just right" space available. However, building the framework was like constructing a shed, complete with concrete footings. It took a bit of extra effort and time (ok, a LOT more effort — we are not professional builders). Not nearly as easy as a kit would have been.
The end result? I FREAKIN' LOVE IT! (A progress report and more details coming soon!)
---
Contact Us Here to Order!
Barbolian Fields
Authorized Dealer of Solexx Products
3623 Woodcock Rd.
Sequim, WA 98382
ph. 360-477-2786
email: blythe [at] barbolian [dot] com
---
Need Help with Greenhouse Set-up & Installation?
We recommend ONA Landscaping.  We have a definite bias: the owner of ONA Landscaping is our son, Matt Ward – but we are also biased because Matt and his business partner, Micah Rankin, do fantastic work and are ultimately reliable. ONA Landscaping, originally founded by Micah's dad, Tom Rankin, has been in business since 1977 (Matt & Micah have been running it since 2014). ONA has a well-earned reputation for quality and trust in our community. They also do some amazing work with water features, dry creek beds, fencing, irrigation systems, and natural landscaping.