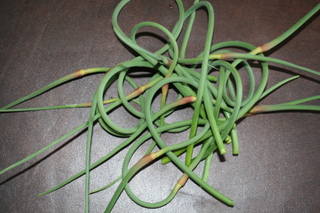 I have been asked – no – begged – to reveal my soon-to-be-famous recipes for pesto and hummus using fresh garlic scapes. Ok. I bend to peer pressure. But not without this warning:
EATING THIS STUFF CAN BE ADDICTIVE!
And to lure you into my web, I also offer a recipe for homemade crackers to go with them.
Go ahead…try these…don't let anyone see you…scoop them into small bowls and go off to your happy place…we'll see you in a few days. I tantalize you first with the pesto. You have to come back for the hummus and crackers.
GARLIC SCAPE PESTO:
First, a caveat: the problem with this recipe – or maybe it's me – is that nothing is really measured and substitutions are made freely, depending on what you have on hand. If you are a freestyle cook, you understand this mentality. There are a few things you must have, namely, garlic and olive oil, or it simply isn't pesto. Personally, I grow a lot of basil and several varieties, but I am not terribly fond of it in pesto (I know, this is blasphemy to my Sicilian heritage), because most recipes ask for a lot of it and it is too overpowering. Now the garlic – I grow lots – I use lots – it is incredibly overpowering – and if you are a true garlic lover, that is just how it should be. Ok – the recipe:
1 doz. garlic scapes
1 cup, more or less, of parsley (I grow a lot of this, too – it balances well with garlic and is available most of the year)
1 1/2 cup walnuts
1/2 – 1 tsp sea salt (you don't need much)
1/2 cup olive oil
1/4 cup lemon juice
Chop, blend, or whatever you need to do to make it smooth. Yes, you can add Parmesan if you have it – or if you have pine nuts, those are great – and of course, you can totally change the taste with aromatic fresh basils, but I don't always have those things, and the craving must be fed, regardless. What kind of recipe is this, you ask? Ok, not really a recipe, more like a guideline.
But now that you've made it, you must face your ethical dilemma: go hide or go share. Your choice. I won't tell.