All those who are on the fence about investing in the greenhouse of their dreams: now might be the time to take the plunge. Adapt8, the maker of Solexx greenhouse kits, is having a "tax refund" sale. Reduced prices are in effect through April 15, 2018.
I am happy to pass the savings on to you – and the way I figure, any time you can save a couple hundred bucks leaves that much more for plants, right?
March is definitely Greenhouse Month
It is spring outside, but still too cold to do anything. Even though the official Vernal Equinox isn't until the 20th, by the first of March, the days are getting longer, the plants are waking up, and the birds are noticeably chattering a whole lot more. The world thinks it is spring.
But, lest we get too ambitious, we are quickly reminded by howling winds and frosty mornings with occasional snow flurries, it is still early. When it thaws, the ground is way too soggy to risk tromping around on and destroying its sensitive structure. If I plant peas and potatoes right now, they just rot. There is not much we can do outdoors other than general cleanup, and even that is best to hold off on to give the insects a chance to move out of their winter homes.
Inside the greenhouse, however, it can easily be barefoot and T-shirt weather at a cozy 75 degrees or more. March is the month that allows us to indulge in our gardening fix and get a jumpstart on Mother Nature.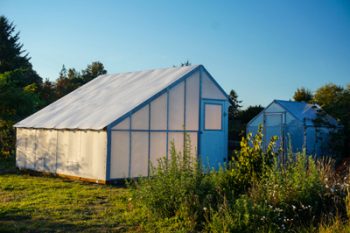 I am in love with our greenhouse. It is, to me, a mood-altering, life-changing, investment in our health. Sometimes I go out there just to sit and read – or even just inhale and exhale – no thinking required.
Admittedly, I could do a better job of optimizing what and how I grow things – but I am new enough at this that it is still an experiment. Last summer, for example, we were growing passionfruit vines, Chinese yams, ginkgo trees, a small palm, lemongrass, a little rice paddy, a cranberry bog, several varieties of basil (including lots of Tulsi), astragalus, ashwagandha, peppers, tomatoes, and kenaf, a tall fiber plant relative to hibiscus. At one point, some nasturtiums threatened to take over the entire place, and I was pretty much blown away by the productivity and multiple ecosystems possible in a 14' x 16' space (4 feet of which is occupied by 55-gallon barrels full of water to moderate temperatures).
The greenhouse is always in a state of flux, evolving from one season to the next. In addition to growing fresh winter salads, it is a great place to overwinter cuttings of assorted plants from the garden: hazels, blueberries, honeyberries, currants and gooseberries, some roses, many native shrubs, and an assortment of herbs are what we have going right now. They will move out in time to plant more heat-dependent veggies in a month or so. In the meantime, the astragalus is up, the berry shrubs are budding out, a red-flowering currant start is already blooming. It feels a bit tropical!
Seriously, folks, I loved the Solexx so much right from the get-go that I signed up to be a distributor, and my appreciation for this outdoor living space has only increased with time.
Like anything, that depends…
** But the SALE we're talking about only applies to the kits, if that is a determining factor.
Ours is a DIY frame structure covered with the Solexx material. We went this route because we already had the lumber and because we were on a tight budget.
Pros: our roof is at a 60-degree angle to optimize the low angle of the winter sun at our latitude. Our design provides a comfortable 4-foot height in front, which is plenty of space for plants and people. The roof peaks at 10 feet, which gives the climbers room to reach for their full potential. The entire structure is anchored into cement blocks. It is never going anywhere, no matter how hard that wind blows.
A big deciding factor for us was the upfront cost. We already had the lumber, so going this route seemed the most logical.
Cons: Our handmade structure has a few gaps that allow cold air in, for example, where the roof meets the walls and around the doors and windows. We could do more to close these up. This would not be an issue in the kits.
Our shelving, made from salvaged closet racks, is incredibly flimsy compared with the polycarbonate shelving that comes with the kits, which will easily hold 500 lbs. One of my racks fell down one time, dumping my plants on the floor. It was a sad day. Pots full of damp soil weigh more than you think.
The wooden framework is bulky, absorbs moisture, has a potential for molds, and casts shadows. I have mixed feelings about treated lumber. We put so much work into constructing it, and yet I know it will eventually rot.
Our greenhouse took months to build. We are not contractors and we were working in our spare time, learning as we went. We undoubtedly did a bit of overkill. A kit would have been so much easier and we could have gotten started in the spring instead of November.
Yes, they seem a bit pricey at first glance, but investigate further and you will see they are quite on par with other options, and the advantages far exceed the competition.
The framing on the kits looks like PVC but is actually a pultruded, super-strong composite with the strength of steel. The frames take up little space and will not mildew, rust, or corrode. Unlike metal frames, they are condensation-free.
Shelving options in the kits include hanging rods (easily hold 200 lbs) and bench shelving rated at 500-lb strength. The kits come with built-in bench frames, forming an integral unit of unequaled strength and a very efficient workspace.
Other Good Features:
Kits come with louvered air vents; solar opener vents are included in the Deluxe kits.
Kit houses are tight. No cold drafts.
Kits are much easier to build and install. The pieces are color coded and assembly is mapped out for you. All you need is a piece of level ground and a few simple tools. A kit can be put together in a weekend and you are set to go.
Free shipping on all kits.
Other Key Advantages of Solexx: Light Quality, Insulation, Durability, Longevity
The Solexx material is a double-walled polyethylene material (not polycarbonate). It diffuses the light, which eliminates shadows, meaning the plants are hit with the right wavelengths at all angles, helping them to grow faster and more robust. In fact, the diffused Solexx light is proven to increase plant growth by 30%, which explains the jungle effect I experienced last summer. If you are a commercial grower, a 30% increase can make a significant difference.
The polyethylene is milky white, rather than clear, for a good reason: clear polycarbonate materials tend to let in too much light, resulting in harsh burning of plants. The Solexx provides a much better insulation value. Plus, the Solexx polyethylene is easier to cut, more flexible, and easier to install.
Interestingly, if you look around on the web, many people have appreciated the opaque milky-white Solexx material in growing cannabis, not only for the insulative and light-reflective properties, but also for the privacy. People (and helicopters) can't see what you have in there. Reduces theft, too, I would assume. No longer an issue here in Washington.
Solexx has better R and U values than any other material in the industry. It is the most economical to heat.
Easy maintenance – a quick wash with soap and water does the trick.
Solexx is strong enough to withstand hurricane-force winds and heavy snowloads found in Alaska, Colorado, the Dakotas, and New England states. (Our snow, when we get it, is always wet and heavy; it slides right off.)
Solexx is treated with a double UV inhibitor that prevents breakdown, yellowing, or cracking. It is shatterproof. It comes with a 10-year warranty and has an even longer life expectancy. Solexx keeps reams of plastic out of landfills.
Made in the USA – Yay! Shipped to us from our neighbors in Salem, Oregon.
If I were to do it over and money was not the deciding factor, as much as I love what we have and my husband for building it for me, I would go with a kit. I say that softly. I love and have a deep gratitude for what I already have.
I'd like to share the love. So, without sounding too cheesy or pitching an in-your-face sales pitch, if you are contemplating getting a greenhouse, and if Solexx is on your radar, check out the additional info on these pages and give me a call. Sale prices are good through April 15, 2018.