Dear Friends,
I thought I might write you all sooner. At the time of the last full moon of the year, for example, would have been appropriate, but the great white orb managed to boldly rise in the cold night sky and then set in quiet serenity the following morning without any website fanfare on my part (although I admit to a certain amount of cavorting in song and celebration, which is usually what happens when I whip out my harmonicas under a full moon….). (Not to draw correlations, of course.)
Then, as the holidays fast approached, I thought I might get my act together and do a big promotion thing with all the things I have for sale (seeds, herbs, crafts, etc.)… but then I got bombarded with so many e-mails shouting in big red font about all the great deals I needed to buy, that I decided I really didn't want to be any part of that ("Not a great business model," my business head said, as I started into a downward holiday spiral).
So then I thought I might just pass on a few recipes…you know, something low key but special…because 'tis the season to eat and eat and then eat some more….but then I thought that kind of consumption followed by bloated consumerism is just the kind of American stereotype I'd rather not identify with. In fact, I'd rather just help feed the hungry. So I did that instead.
Time seemed to accelerate. Suddenly, Christmas day was already here, and we were asking in utter amazement, "Where did all the time go?" even though it happens every year. Duh. Harvest season spins into Thanksgiving, which then whirls into Christmas, and the next thing we know, the year is over. 
Time and Tide wait for no man.
Whoever said that, thank you, because that is just the way it works.
Perhaps it is WE who need to slow down … pause … take a moment to enjoy the moment. All the Zen Gurus tell us this.
We get a lot of advice at this time of year: how to make the most of retrospection and resolutions, how to be more happy, productive, get in shape, etc. etc. I'm going to have to turn off the Zite in my head, because it is full of it, and I am here to tell you that not much of it is very practical (and if you are wondering whether "it" refers to my head or me who is full of it, or just what exactly, you would be right).
In fact, if anything, instead of checking off any boxes or gaining acceptance of the here and now, I usually complicate things further by detouring off the "Must Do" list and jumping headlong into the "Rather Do" list (which usually involves gardening or some creative pursuit or simply getting sidetracked, because I tend to be a little on the ADD side – d'ya think?). Actually, I think this is a rather common reaction to feeling overwhelmed, is it not? (Please tell me it is.)
So…on a very cold day when temps dipped into the 20s and when I should have been doing the marketing thing or shopping for presents (I hate shopping), or at the very least sipping hot cocoa, I decided instead it would be better to shovel compost around each of our fruit trees.
"What," you ask, astounded, "could you have possibly been thinking?"
And during that little workout, which ended up taking me the greater part of two full days, I thought a lot about how important good soil is to our very existence, both realistically and figuratively. It took me another greater part of a day to wax philosophically about it on paper (and then upload it to the blog: "To Convert an Orchard to a Food Forest, Start with the Soil").
You may think me crazy, but it was just the right thing to do to get into the Christmas spirit … because the very next day, lo and behold, we awoke to our very first snow … "Hark!" I exclaimed!
…and in that complete silence that one can only experience when the world is muffled quiet, I realized just how very magical this world really is, as well as our existence in it. (And the practical side of me was thankful our trees had an extra layer of protection that would transform itself into new life in the seasons ahead.)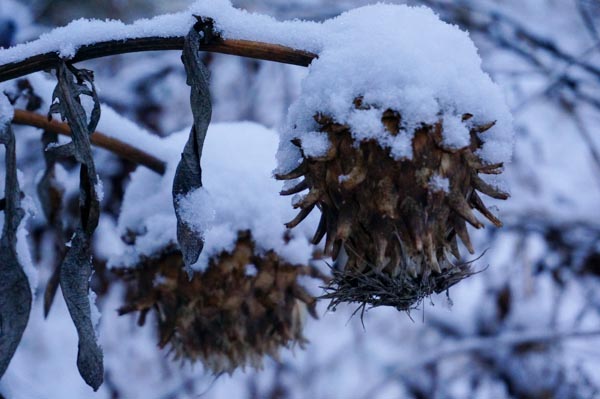 The snow rarely lasts very long here, but the daylight dwindles to just over 8 hours while the nights are nearly twice as long and seem to go on forever; we have a tendency to want to sleep late, eat roots, and drink cups of something steaming or alcoholic or both. Winter is for hunkering down.
And so it is with particular delight that we greet the Solstice, that special moment in time (Saturday, December 21, 2013 at 9:11 Pacific Time or 17:11 Universal Coordinated Time, to be exact) when our swiftly spinning planet tilts back toward the sun, even though we realize by some cruel twist of nature, we are actually just beginning true winter. We light a candle in the darkness. Others have already strung colored lights all around their houses. Some put up inflated lawn ornaments to express some kind of joy in plastic. Before I launch into that tangent, let me just say we are DEFYING darkness!
But I contend we should EMBRACE this time of year! It is the perfect time to observe the light in all its variations and how it changes throughout the seasons, even if we have no plans of building our very own Stonehenge. (I talked about this in a previous post on Tracking the Sun – well, not about building Stonehenge, but take a look anyway if you get a chance.)
Sure, many days are too cloudy to observe the sun's rays throughout the day; however, since we are only gaining seconds of time at this point, observations can be recorded over several days. How else would I realize, for example, that even though I logically know the sun rises more or less in the east, much of the eastern side of our property does not receive the morning sun? Why? Because the sun at this time of year is too low in the sky to clear the neighbor's trees until almost noon, by which time, it is almost past the house, which then casts its own shadow. Believe it or not, the area that gets the most morning sun is the northwest side of the property. The old treehouse at that far corner is almost lit up in that early light. Also interesting is that the beehives are located far enough away from things that they receive a good part of the winter sun throughout the day, which I am sure the bees appreciate; I have seen them on more than one occasion venturing out for a cleansing flight.
So, in terms of holiday doldrums, truth be told, I did not get things in the mail on time, did not mail out Christmas cards, did not partake in mass consumerism or promote all my "stuff" at this most lucrative time of year – I didn't do updates, share recipes, or accomplish an entire list of things that needed to be done ….. BUT we DID take time to enjoy time with family and friends, as dysfunctional as many of us seem to be, and appreciate each other for the crazy people we are – and that seems rather important, does it not?
Also, I DID somehow manage to go through all my photos and pick out a few of my favorites (difficult decisions!), which gave a good perspective on what grew best and when and how the garden evolved over the seasons. Everyone should do this! (My only advice would be to take a few pictures every month to record what's out there and then call it good. You don't need 1000 of them. Ahm.)
And so the year closes with a rather muted celestial flourish of sorts: a new moon synchronized with the beginning of a new calendar year – a rather unusual occurrence. Not only that, but the new moon is a Supermoon (when the moon is slightly closer to the Earth than usual) – and we get not one, but TWO New Supermoons in the month of January (the other on January 30)! Even though we can barely see them (if at all), we will certainly feel the pull of the tides from one extreme to the other as the sun, moon, and Earth align (Yes! A trip to the rugged Washington coast is a must!).
The end of 2013 – the beginning of 2014 – plus the pull of a new supermoon: Time and Tides may not wait, but we can certainly take advantage of this powerful energy while we can! Clean your house, however that be defined, let go of the past, begin anew. It's also a great time to spend a quiet evening sipping tea, browsing seed catalogs, thinking about what new things to grow. Oh, and while you're at it, take a look at my Seed page. If there is something you want, let me know – and let me know what new things you have in store for your garden in the coming year, OK?
Thank you, Friends, for hangin' in there with me over the last year – and Happy New Year, Everyone!
Blessings!
Blythe
** ~*~ **
Cool Resource: Sunrise Sunset – Create a calendar of sunrise, sunset, moonrise, moonset, twilight times, and many other facts according to your very own place in space and time.