True confession: I simply have not had time to follow up on my last post. Furthermore, I am not afraid to admit that I still have zucchini on my countertop. Yes, I continue to sneak them into spaghetti sauces and muffins, but in reality, they have been pushed to the back to make room for zillions of green tomatoes. I do mean zillions.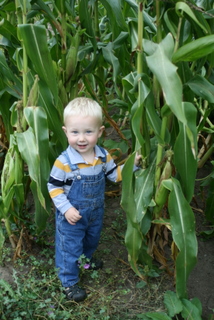 Incredible summer that it was, we also managed to get enough RED ones to inspire the red tomato dance with wild abandon, something I won't post on YouTube just yet, but believe me, my tomatoes were something to behold!
And CORN! To experience the taste of just-picked sweet corn is a rare thing in the maritime Northwest, where people have no concept of measuring summer days by number of heat units.
Harvest time is crazy! September and October flew by with a flurry of "must dos" before the winds and rains drove all but the soggy hardy indoors: garlic to plant & more to deliver, fall crops to mulch and put under cover, potatoes to dig, tomatoes to can, corn to freeze, and fruits and jams…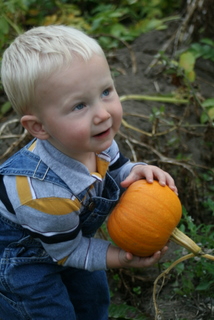 The winds picked up in early October, just after the garlic was tucked snugly in the ground. The tarp over my tomato trellis was ripping like a flag on a stormy sea. I scrambled to pick a peck of green tomatoes, along with a nice supply of baby pie pumpkins. The winds blew harder. Apples literally rained from the trees.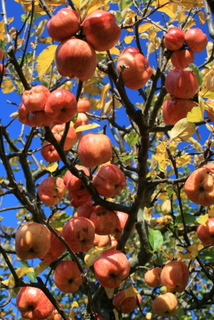 What to do with four trees full of apples – heirloom Gravensteins – juicy and tart. Too few to sell commercially – too many for just family and friends. Over the next few days, I picked 6 boxes of windfalls and put them out by the road with a sign: Free Apples. One by one they disappeared.
And THAT, exactly, is what I love about fall: with a seemingly endless list of tasks and an urgency you can smell in the damp mornings when the fog rolls in across the fields – there comes a moment when you have to pause and marvel at the sheer abundance of what you have – and with that, the appreciation of the opportunity it gives you to share that abundance with complete strangers.
And speaking of sharing, before I move on to other things, I must share with you what is quite possibly the best zucchini bread recipe ever. I have at least two dozen loaves of this in my freezer and have given more than a dozen away.
I have adapted this recipe from "Recipes from America's Small Farms – Fresh Ideas for the Season's Bounty" by Joanne Lamb Hayes and Lori Stein with Maura Webber (link also provided in the right column). I particularly relate to this book because the recipes are accessible (no exotic ingredients), they revolve around what is in season, and they are organized according to parts of the plant (leaves, stalks and stems, seeds and pods, roots and tubers, etc.). There are loads of tips on how to prepare specialty items found at farmers' markets, such as mesclun, arugula, nasturtium flowers, and garlic scapes. And although it's a little heavy on the Community Supported Agriculture (CSA) idea (which I do support), the short write-ups on the family farms from whom the recipes are featured makes you feel like they could be just down the road. Highly recommended.
One more thing before the recipe: I feel the need to clarify that I would not call myself devious in my sharing the abundance of zucchini. Au contraire. I considered stamping across my forehead, "Zucchini's not for Weenies." I never resorted to leaving zucchinis in people's cars or on doorsteps and then running. No. But I do admit to cleverly disguising (er, I mean, enhancing) the zucchini behind nuts, raisins, and even chocolate chips. And after our annual family pumpkin-carving party, I smiled genuinely as I gave each unsuspecting child a loaf to take home with them. Each of them smiled in return and said "thank you" (good children that they are). Little did they know what I meant when I said, "Trick or Treat!" 😎
(One more caveat: if you have followed other recipes I have posted, you will know this is really more of a guideline.)
And now….(finally)….without further fanfare….
A Darn Good Recipe for Zucchini-Bran Bread (makes four 8-inch loaves) (My thanks extended to Beth Staggenborg of Boulder Belt CSA in Cincinnati, Ohio.)
Initial prep:
Preheat the oven to 325 degrees F. Grease your pans.
Mix together wet stuff & sweeteners:
6 eggs
1 c vegetable oil
1 c brown sugar (half brown and half raw is also good)
¼ c molasses (for dark bread) or honey (for light)
Mix together dry stuff:
4 c flour (whole wheat or white/wheat combo)
1 c oat bran
1/3 c wheat germ
2 tsp baking soda
1 tsp ground cinnamon
1 T ginger (optional – but good)
1 tsp salt
1 T baking powder
Mix the wet & dry (not too much – it will get mixed more in the next step)
Fold in the not-so-secret ingredients:
6-8 c grated zucchini (I have used up to 10 c!)
1 c chopped nuts
1 c raisins
Chocolate chips – couple handfuls (optional)
Other ideas: fresh ginger – grate in a bit if you have it. Orange zest is also good.
And to Complete…
Divide the batter. Bake about 40 minutes or so. Less for smaller pans. Cool on a wire rack for 15 minutes before slicing.
Easy!
Essentially, my version has less oil, less sugar, more zucchini, and a few more spices than that in the Small Farm cookbook recipe.
Remember,  'tis the season – Share the Abundance!