This is the time of year when Sequim turns into one big party in purple. If you missed the throngs of people – never fear – the farms are still purple, the lavender still smells, well, like lavender, and the shops are still open. You can still come and enjoy the sights, minus the crowds.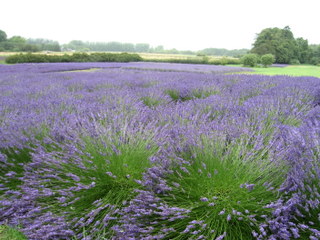 Lavender has transformed our community. And although it's all just a little crazy to some of us locals, it is still energizing and calming at the same time. Such are the effects of lavender.
But I am not complaining. In an area where ¾ of the original 76,000 acres of farmland have been sold to housing and development projects, and where only 2 of the once 500 dairies remain, growing lavender has been a surprising, albeit nontraditional, way of preserving a bit of agriculture in our region. And while corn mazes and pumpkin patches are sprouting up all across the U.S., Sequim remains uniquely lavender.
Agritourism is, in fact, changing the face of agriculture and may be the saving grace of many farms across the country. It's hard to make it work these days in farming. Globalization has raised competition to a whole new level; industrialization has made it nearly impossible for traditional crops to be profitably raised by small farmers. As costs for raising crops and livestock have risen and prices for commodities have fallen, more and more farmers rely on off-farm income.
But as Charles Darwin said, "It is not the strongest of the species that survives, nor the most intelligent that survives. It is the one that is the most adaptable to change."
Farmers have learned to adapt. To compete in today's market, diversification and specialization are key. Offer something that the big agribiz and global network cannot: specialized products and a unique experience.
Enter agritourism – the recent wave in an excuse for farmers, artisans, and consumers to exchange hugs (as if we need one!)
Agritourism is an alternative farming enterprise – it can be fun, educational, and yes, profitable. People who attend ag events are, after all, looking for a good time, good food, and maybe learning something in the process.
The Sequim Lavender Festival is all about sensations: see, hear, feel, taste, smell. People come for the experience. Thousands of them. People are willing to pay to play. (Some people will even pay to work! Especially if they're learning something in the process.)
And while it may be true that agritourism presents a rather romaticized view of what it means to be a farmer, it has also brought back an appreciation of key values from the "good ol' days":  integrity, hard work, trust, looking someone straight in the eye, shaking hands, and friendship. It's direct marketing at its best.
After all, when it comes to being successful, one thing hasn't changed:  it's all about relationships. Know your farmer. Know where your food comes from. If you care about these things, how can you NOT support your local farmer? And when you meet the artisan who so carefully instilled a bit of their own personality into their craft, how can a mass-produced item even come CLOSE in comparison?
Once people have made those connections, they keep coming back. (This is where the hugs come in.)
Some positive points:
Agritourism benefits the entire community – events can give a significant economic boost to other local businesses.
Agritourism instills an appreciation for agriculture and also an awareness and appreciation for where your food comes from (and what it takes to get it to you!)
Agritourism educates people about the issues facing farm operations and the business aspects of farming.
Agritourism provides an opportunity to sell (and buy!) all kinds of local and regional products that you can't find elsewhere.
Agritourism can help the whole family get involved in the success of the farm – and through that success, perhaps inspire the younger generation to continue farming after the older generation retires.
Agritourism is helping farmers stay on the land.
Of course, not everyone wants their community turned into a theme park. And 30,000 people traveling the one-road-in and one-road-out of a town of about 6,000 residents on a single weekend can be a bit overwhelming. There are tour buses, motor-coaches, traffic accidents, and backups. There are liability issues. Porta-potties. Potential vandalism and theft. Roadside garbage. More and more people find out what a paradise this is and think they just might retire here. Real estate goes up and so does urban sprawl.
And suddenly our quiet little town is no longer so quiet. Some of us just have to leave town for the weekend.
I mean, that's what Forks is for, right? (Oh, that's right. Forks has Twilight now.)
Hmmm… I hear there's a quiet little spot in eastern Washington … it's a bit hot and dry, but maybe they need a sagebrush festival….