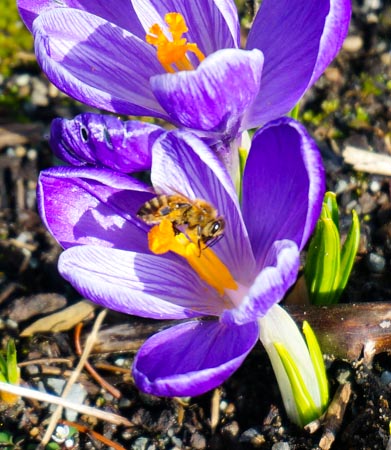 Ahhh! At last! Whether it looks like it outside or not, we are assured that warmth is on its way! We have reached that tipping point: the day of the Vernal Equinox – when day and night are held in equilibrium. Symbolically, it provides a moment to think about balance in our own lives, too – and what we might do to bring tipping scales back into alignment.
Not to worry – I won't delve deeply into the woo-woo here. But this first day of spring provides a great opportunity for reflection – much like the New Year. (It only lasts for a day, you know – and then you can go back to your frenzied lifestyle if you so choose. After all, now being officially Spring, there is much to catch up on!)
But – just for a moment – also contemplate – as the Earth tips toward the time when light will dominate in our hemisphere – we can make another personal connection: we can ask, what can each of us do to bring more light and abundance into our world? At this time of rebirth and growth, we can make resolutions to begin anew.
A simple look at the deepest yellow imaginable at the center of a daffodil – or at the magenta blooms that, overnight, seem to cover the red flowering currants – at the buds swelling on each and every branch of every shrub – and how suddenly the day is alive with buzzing bees and the nightfall with singing frogs and yappy coyotes – no matter where you live or what you see and hear in your particular locale, it is easy to be reminded we are a part of something much bigger than ourselves.
There is a very simple thing each of us can do to change the world. It is, in its way, a revolutionary act, but one that has connected generations: plant a garden.
I cannot say it better than Dr. Vandana Shiva:
One million backyard gardens can, indeed, change the world. By growing our own food (or strengthening our communities by buying locally grown food), each of us can be more self-reliant and take a step toward proclaiming our independence from fuel-driven economies. Starting a garden is more important now than ever.
And about how to bring balance into your life? Getting my hands in the dirt always works for me.
And while we are at it, let's plant something for the bees….
Happy Spring, Everyone!
~*~

Quotes from the highly respected Dr. Vandana Shiva, who has done so much to protect seed sovereignty throughout the world:

"We are all participants in what Thomas Berry calls 'The Great Work.'

The true greening of your own life is the basic requirement of a sustainable planetary civilization. It begins when we recognize our connection with the cosmos. The future of humanity will depend on how we steward the resources of land, soil, of water, and seeds, and pass them on to future generations.

We are at a unique historic moment.

We are in the midst of a convergence of multiple crises. If 40% of the problem of climate change is coming from an industrial globalized system of food production, which is putting the seed supply in the hands of five companies and the food supply in the hands of another five companies –this is a highly unstable system — oil is running out, and in addition, the environmental burden that the age of fossil fuel has left us with in forms of climate chaos — the beauty of the crisis is that it creates an opportunity:  the solutions to the economic crises and finding livelihoods are also the solutions to the crisis of the climate and also the solutions to poverty and unemployment.

Start a garden.

Agriculture and food is an area where everyone can begin Today. That is why the garden is so important. It teaches us that there is something we are all capable of doing.

Only in something so small that can be in everyone's hands can we challenge the empire."

Next PostRead more articles