Helllooo February! What a stretch of great weather we've had! If the groundhog saw his shadow, it was only because he wasn't facing the sun! You'd think he'd learn by now.
I admit, I am not sorry to kiss 2011 goodbye and begin anew, and I'm also not sorry to say goodbye to January. Granted, the winter garden is a beautiful place – but sunny days that are too cold to be outside for any length of time are pure torture. The winter can get long and dreary when we sit inside and know that beneath that snow, the weeds still grow. (We know this is true, because when that snow melts, there they are, bigger than ever.)
In February, though, we start to notice the daylight lasting just a wee bit longer….hope is on the horizon with the rising sun.
But February is a weird month – it's that 'tween month – not really winter, not really spring. Kind of the prelude season. We don't dare do much in the garden for fear of smashing delicate soil structure and destroying zillions of microbes in a single step. Some, not mentioning names, of course, might use that as an excuse to sit back in their easy chairs by the fire, maybe with something fermented, and delve into catalogs that promise color, warmth, and bounty at their fingertips. (Ya gotta love that woman sporting her fancy melons.) And we can talk about climate change and global warming and extremes in weather, but seriously, do I believe I'll be able to grow luffas and bananas?
Umm – well yes, I DO believe – as much as I believe in the Good Garden Fairy – and the ability of science to come up with marvelous things we would never have believed possible. (You have to understand, I'm married to a scientist, and in my past life, I worked in a laboratory, so I have come to understand that it's all a matter of levels of uncertainty – or conversely, certainty – and obviously, there is nothing certain in this world except death and taxes – but lest I digress….)
Oh sure, we can take the opportunity to reflect on what worked, what didn't, and what we'd do differently if we could take back all those stupid things we said in our 'tween years – but learning from our mistakes is for progressives and grown ups.
No, during garden-planning season, we all quite willingly skip into our very own fantasy world, and it's not a bad thing. Great things come from great visions, after all, and even if they don't end up being true to the dream, they can still, in their own way, be quite extraordinary. It has to start with a seed of an idea, though, and the desire to make it grow, right? So – feel no guilt – sit where you are, fantasize away, and do your part to save the microbes!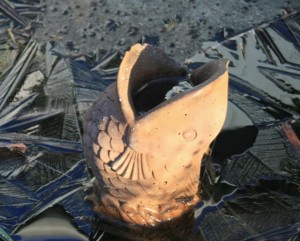 In February, though, anything and everything can and will happen, so you have to be prepared. Mentally, if nothing else. I mean, we have days when we think it must be April. We watch the birds pairing up and the buds start to swell on the trees, and we know that spring is maybe tomorrow, if not already. Other days, we feel we've regressed to November. Is there any question why we are dazed and confused?
When the days are nice, we get out and finish pruning (ahm! Isn't that what we were supposed to be doing?) and maybe we can even take advantage of a sale at our local nurseries and plant a tree or two while they are still sleeping. (Wake up in a warm place … now There's a fantasy!)
The problem with February is that on nice days (it's all relative, sure, but we've been hitting 50 here, and it feels pretty darn good!), we feel we should be getting the garden ready, even though the soil is obviously too wet – and on lousy days (when the wind is blowing 50), we are thinking surely winter should be over by now and we really should be out there getting the garden ready, even though the soil is obviously too wet. Did I say that already? But that's how February is. Repetitive. And we are tired of this stuff and need out. Cabin fever closes in big time. People in Cordova, Alaska, know what I'm talking about. And yes, I confess, I am spending way too much time on TravelZoo.
For those of us in Washington, though, the land where the weeds never sleep, February is the month of error. We are tempted to start our annual plants, but know we shouldn't dare, but do anyway. We can't help it. Primroses arrive in the grocery stores – and they are blooming profusely in sunny yellows and oranges. So we go home, full of hope and promise, and try planting a little something in makeshift milk-jug greenhouses; in the open garden, we try planting another little something – we plant deeply and mulch thickly, figuring they'll eventually make it to the sunlight; we plant, watch our seedlings rot in the wet months that are sure to come, and replant and maybe even replant again; we plant, cover with mini hoop-houses of plastic, which get ripped in the wind, and which we strap down with Duct Tape, and then later try to crawl into and water even though it's pouring down rain outside; and in a tender Valentine's Day moment, we cut out pictures of hearts and flowers and paste them on cards and give them to our grandmothers. Ok, maybe I can't do that anymore, but if I could, I would.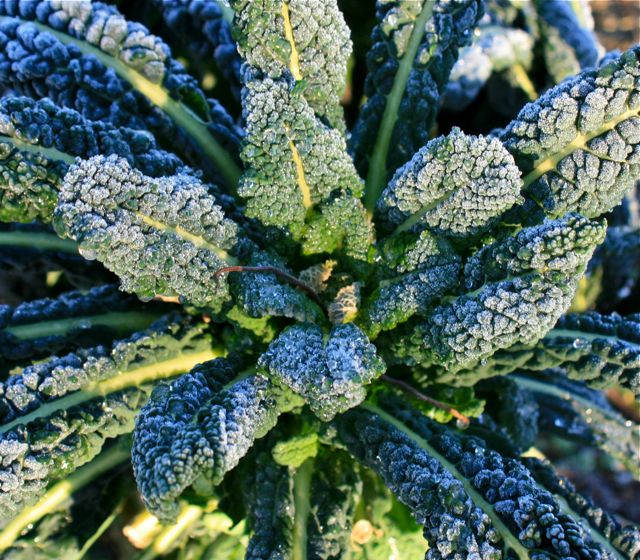 Well, folks, when all else fails, I say Eat More Kale. I know, I know, it might sound counterintuitive to some, and it hardly seems a solution for those winter-time blues or anything else I've been talking about, but believe me, it will do you wonders – as will (it goes without saying) my all-time remedy for just about everything: garlic.
I am happy to present to you here today a recipe from one of my readers, and of whom I have become a real fan. Walt has not only passed on this incredibly good (and simple!) recipe that combines these two miracle cures, but also sent me plans on how to build a beehive – which I will share with you in blog posts to come. For now:
Death by Garlic (Revived by Kale)
By: Walt Wielbicki (Garlic Breath)
Prep Time: 5 Minutes
Cook Time: 15 Minutes
Ready In: 20 Minutes
Servings: 4
"10 minced cloves of garlic lightly browned in olive oil and tossed with parsley, kale, red pepper flakes, hot penne pasta, and freshly grated Romano cheese makes a heady and flavorful dish."
INGREDIENTS:
1/2 cup olive oil
10 cloves Polish hard neck garlic, minced
1 bunch Nash's Kale torn from the thick stems in bite size pieces
1/2 teaspoon salt
1/2 teaspoon crushed red pepper flakes
3 tablespoons chopped fresh parsley
1 pound dry penne pasta
1/3 cup grated Romano cheese
DIRECTIONS:
Cook pasta according to directions on package
In a pan, brown the Polish garlic in oil for 2 Minuets then add the Nash kale and stir for 5 more minuets until the kale is wilted. Add salt, pepper and parsley and remove from heat.
Toss penne pasta with garlic mixture and add Romano cheese and serve!
Note: Add sliced Polish kielbasa at the same time you brown garlic for a special treat.
My variations: We used gluten-free penne pasta made with rice flour. I've been really missing pasta lately, and these were great. We had plenty of kale, and yes, even parsley from our garden.  As for garlic, we used German Extra Hardy (a porcelain type with a long shelf life) instead of Polish hardneck garlic. The Polish I have is a softneck artichoke type, which is not quite as flavorful as the German. I also threw in a can of tuna (along with the water it comes in). Polish kielbasa would, indeed, be good. Meatless is also very good.
! ~ * ~ !
One Final Word (or two): Don't despair.
After February, comes March – and in March, things start to get a little crazy – so if there is something you can do now (sharpen your tools, get your trellises ready, yes, finish pruning, design your water systems and future garden beds, and yes, order seeds!) – do it!
And yes, I might try starting a little spinach. And maybe a few onions. Maybe even more kale….
Links to some cool gardening ideas for February:
A chart on how long seeds last (viability)
Some of my favorite seed companies
Organic Seed Alliance list of companies that sell organic seeds