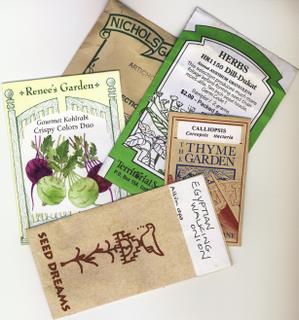 It is that time of year again: Seed Catalog Frenzy season. For those of you stuck in a snowbank, there is probably nothing more enjoyable than sitting by a fire scanning the pictures of sensual flowers that laugh in the sunshine and of all those delectable vegetables that make us secretly want to turn vegetarian if we aren't already. (Or should I say, "sitting by a fire consuming something strong and alcoholic, scanning catalogs while waiting for this pile of white stuff that just won't let up, already! melt into what will be a mud bog for weeks to come…)
The point is, we know these pin-up centerfolds can't possibly be real, but every year, we buy into the fantasy. Readily. Greedily, in fact. They hit our doorsteps at a most vulnerable time. We are tired of another heaping plate of turnips and kale. These companies are blatantly feeding on our craving for a fresh salad with 6 different varieties of lettuce, topped with carrot shavings and spicy nasturtium blossoms …. Or maybe a simple, sweet, succulent strawberry – a bowlful would obviously be better … or maybe a fresh, vine-ripened-in-the-backyard tomato – the kind that explodes in your mouth and juices run down your chin….  This is why the Internet is full of support groups for people like you and me.
But in all honesty, I am one of the privileged ones. I'm not stuck in a snowbank at all. It could still happen, but so far, we've hardly even had a winter here in the Maritime Northwest. In fact, the days have been so warm, we are having the opposite problem: the illusion that spring is already here. It's an easy one to slip into when rhubarb, pussywillows, and crocuses are up. Hold on to your shovels, though; we are officially still within the first 10 days of February.
I retreat to the comfort of my seed catalogs. Here are a few that are guaranteed to wake hibernating gardeners. Some are tried and true – some I am sure will be new friends. Check them out, drool into your keyboard, take normal precautions not to electrocute yourself in the process, and succumb to a little retail therapy.
Renee's Garden: I came across Renee's when looking for the source of a green-tomato mincemeat recipe that my family just loves. What a find! How did I possibly miss her over the years? Renee's Garden is an information-packed website with lots of gardening tips and ideas and recipes for enjoying the harvest. She specializes in gourmet veggies and heirloom cottage flowers. I particularly like her kitchen garden design page with plans for long- and short-season veggie gardens. A community forum lets readers talk with each other about what's happening in their plant worlds. Renee Shepherd donates seeds all over the world – Kenya, Nepal, Honduras, Bolivia, Uganda – and also to community & school gardens in the U.S. – to help people be more self-sufficient and to promote sustainable agriculture. Personally, I will be growing 16 new 2010 varieties of vegetables and flowers from her garden and will be posting the progress on these pages. Obviously, I am a huge fan.
Territorial Seed Company: This is our Northwest classic go-to seed company for all things garden related: over 200 varieties of new seeds for 2010, all kinds of tools, kitchen supplies, instructional videos, and more. I buy their seeds every year and have never been disappointed.
West Coast Seeds: A Canadian company – a good source of untreated seeds; good growing guides for everything from achillea to zucchini; handy planting chart. I have not tried them yet, but they come highly recommended. I am located close to the Canadian border, so their seeds should be a good fit.
Uprising Seeds: You can't help but love this family and their adorable son! Seeds are grown in Acme, WA – definitely acclimated to northern areas of the Pacific Northwest (Acme is located east of Bellingham, west of the Cascades). Perhaps they don't have the varieties of larger seed companies, but the basics are covered, and it is fun to support young people trying to make a go of it.
The Thyme Garden: I admit, I have a certain weakness for herbs and dye plants. At one time, I was growing over 100 varieties, thanks mostly in part to The Thyme Garden. They describe themselves as "an eclectic, earth friendly family business working with nature to provide organically grown seeds and plants…" Their gardens showcase some 700 varieties of useful plants from all over the world, and is a place I definitely want to wander around in one of these days. For now, I wander through their catalog that is full of brilliantly written descriptions of intriguing must-have plants.
Seed Savers Exchange: A non-profit membership organization dedicated to conserving and promoting heirloom vegetables, fruits, flowers and herbs. This 850-acre Iowa farm must be absolutely phenomenal. They permanently preserve over 25,000 endangered vegetable varieties. You can spend hours on their catalog, but becoming a member gives you access to 13,571 MORE varieties, in addition to being able to buy seeds from other members and knowing you are doing a good thing for protecting the diversity of our food supply. Seriously, I don't think I could handle the choices.
Nichols: Located in Oregon's Willamette Valley, where just about everything grows. I remember ordering my very first elephant garlic from Nichols back in the 70s, and I have been growing it ever since.
Seeds of Change: These guys are located down in New Mexico, so not even close to the Pacific Northwest – but they are Certified Organic, have done a lot of research on sustainable agriculture, and provide lots of growing how-tos as well as top-quality seed. I admire what they're doing.
Jardin du Gourmet: Aka, Artistic Gardens. Years and years ago I came across this seed company that offered hard-to-find herbs and specialty vegetables. I confess, I have not ordered from them in awhile, but I am glad to see they are still in existence. What I really liked was that you could order these little trial packets to test out a particular variety. Guess what? Seed packets are just $0.35! And I see they are offering a package deal of herbs: 50 (Yes FIFTY) herb varieties (they select which ones) for only $17.50. Wow. Where can you get that?!
The Cook's Garden: More varieties of lettuce and greens that you ever knew existed. If you aren't craving a fresh salad now, you soon will be! This is a new find for me – one I am sure I will return to.
Seeds from Italy: Tuscan, Roman, Venetian …. Hmmm. Anything in this catalog would pair well with my gourmet garlic collection. How have I missed this source? I like a catalog with a niche!
Local sources: Last but far from least! We are seeing a lot more locals saving their own seeds and offering them for sale or exchange. The nice thing about buying local is that you know the plants are already acclimated to your region. In my neighborhood, Nash's Organic Produce is offering local seeds (Seed Dreams) in addition to all the fresh fruits and vegetables they carry. I am anxious to see how the Walking Egyptian Onions do! (You can't order the seeds online; you have to stop in at their store in Dungeness.)
That's all for now. I'd be interested in hearing about what are some of your favorites!