[Link back to Site Analysis; Link back to Permaculture Journey]
Everyone talks about the weather here because it can change dramatically from literally one moment to the next. In the Northwest, we have learned to dress in layers, piling them on and peeling them off and then back on again. This section delves into what the measurements tell us and how that affects our gardens and the way we live. For additional information, please see the sections on the Solar Sector, Hydrology and Soils, and for a more graphical representation, our page on Sectors. This link will take you back to the Site Analysis page.
Temperatures:
Record Low: -3 F (January 1935 and again in 1989
Average low: 30-34 F from November through March
Record High: 99 F (July 1945)
Average High: 57 F


Growing Season:
USDA Zone 8a (10 degree F minimum temperatures)
Last Average Frost: April 15-May 1.
First Average Frost: October 18-November 10.
Average number of growing days: 225

Average Precipitation:
Rain: 14" to 17" per year
Snow: 5.62"
Days of Precipitation: 118
Humidity: Averages 55% to 96%
Sunny Days: 254 "Partly Sunny;" 127 "Mostly Sunny"
Climate Summary: Temperate / Mediterranean characterized by cool, wet winters and springs with moderate temperatures, and dry, relatively cool summers. Average rainfall is just 17", which classifies this coastal region as semi-arid. The area is also characterized by coastal influences of frequent strong winds, high humidity, and seasonal low-lying fog.
Precipitation and Humidity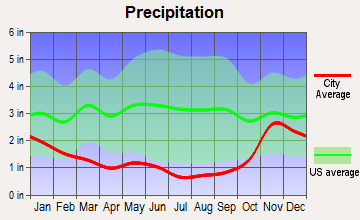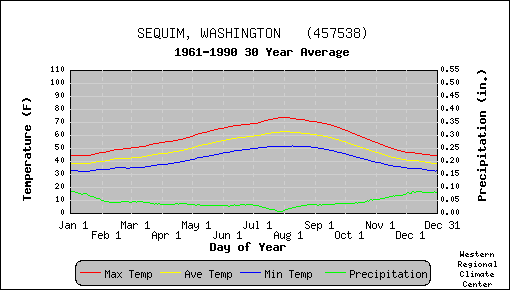 Living in the rainshadow of the Olympics, "Sunny Sequim" – otherwise referred to as the "Blue Hole" for the hole in the clouds seen by pilots flying over our area, a concept largely promulgated by real estate brokers – has been a huge attractant to retirees looking for great weather combined with scenic beauty. The truth is, the "sun shines a little bit every day in Sequim," but it also looks like it just might rain. Depending on the time of year, though, that rain may or may not happen – there might only be visible drizzle. Spring and fall are traditionally the seasons of rainbows, where there is enough moisture in the sky to reflect colors, but not enough to water a garden; one side of the house may frequently bask in sunshine while the other side is under the gloom of dark clouds. Precipitation in Sequim averages less than 16 inches per year (spread out over 118 days), which is about the same as Los Angeles, without the heat and smog (only they get their downpours over 36 days on average); at the nearby Dungeness Lighthouse, measurable rain is less, from 10-13 inches; Port Angeles, 15 miles to the west, averages 25 inches, and on the far west end (a mere 2-hour drive away), Forks averages a whopping 120 inches per year and 212 days of measurable precipitation (Seattle, for comparison, averages 38 inches per year). Over 75% of the rain falls between October and March; November typically gets the most rain of any month, during which time flood watches on regional rivers are common.
Snowfall varies from none at all to increasing levels corresponding to increasing levels in elevation. The average is 5.62 inches. Christmas is seldom "white;" our snow doesn't usually arrive until January, stays a few days, and melts away. When we get it, it is wet and heavy and can be quite damaging. I remember a cruel April Fool's Day joke played by Mother Nature one year when an inch or so fell on April 1. Snow pack in the mountains is a significant source of water to our region; years of low snow pack have a detrimental effect on local agriculture and on river water levels, which can affect salmon runs.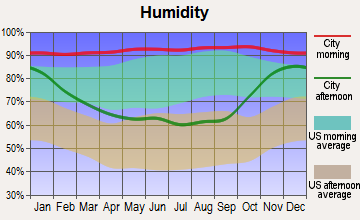 The humidity in this region is higher than one might expect, being as people often associate humidity with more tropical climates. A heavy marine layer – particularly in fall, but even during the heat of summer – will frequently lie over the nearby fields, only to be carried away by winds in mid-morning. Weather statistics say it averages from 55% to 96% in nearby Port Angeles, which is also situated close to the Strait. The driest month is September in terms of humidity.
Sunshine
The reverse side of the precipitation issue is to look at available sunshine, particularly in terms of the potential for solar energy. Does the Blue Hole live up to the hype? Partly, yes. A recent local study showed that there were 254 days of at least partly sunny skies, with 127 of those termed "mostly sunny." When storm systems move quickly through, they generally dump everything on the west side of the mountains. A convergence zone often wraps around both sides of the mountains and collides over Puget Sound, again, missing Sequim. During the stormier months in the Seattle area, Sequim tends to be relatively mild. Solar power might be a viable alternative at our location.
Temperatures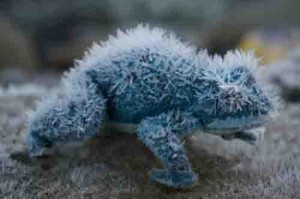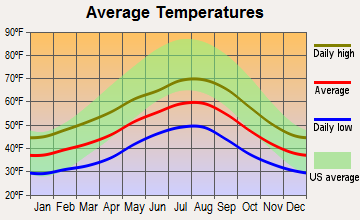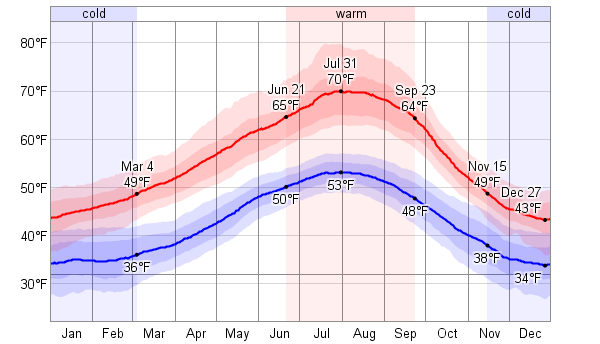 Temperatures at the Barbolian Fields project site run about 5 degrees cooler than those in Sequim, just 4 miles to the south. Plants in town bloom a good week earlier than they do at Barbolian Fields (which is a good way to gauge the bloom times of cherries and apples). The weather station at the Dungeness Lighthouse frequently records temperatures 15-20 degrees cooler than those in Sequim.
The temperature of the seawater ranges from 45-53 degrees, which has a moderating effect on the nearby air temperatures. Summers tend to be cooler and winters warmer than other areas in the state. Seattle areas, for example, are frequently 10 degrees higher. The effect can cause other flip-flops, or inversion patterns, across the landscape, where it might be in the mid 50s at the water's edge but near 80 degrees in the mountains in mid-summer. Winters are relatively mild, but frequent freezing and thawing means that certain crops, such as garlic, endure a lot of upheaval; other crops might sprout early, anticipating spring, only to be hit by cold; and black ice conditions from daytime thaws and nighttime freezes can make roadways dangerous. Minimum temps can easily drop to 15-20 F, but average 30-34 F from November through March. Even in July, the average low is just 50. The record low was a -3 F in January 1935, and again in 1989.
The average high is a cool 57 degrees F, with a record of 99 F set in July 1945. By personal experience, it often feels like it doesn't warm up until after the 4th of July, although daytime temperatures are often in the upper 60s June through September. The cooler months of December, January, and February often reach the mid-40s, and the swing months of March, April, October, and November, are usually in the 50s. Those temperatures are for Sequim, so the temperatures at Barbolian Fields are slightly cooler and with a breeze factor.
I used to count the last frost at mid April, but have been hit more than once with frost in early May after setting out squash starts. First freezes are usually around the first of November, right after we get the garlic in the ground (usually planted on Halloween).
Period of Record : 10/1/1980 to 3/31/2013, Climatic Summary for Sequim, WA (retrieved from the Western Regional Climate Center)
| | Jan | Feb | Mar | Apr | May | Jun | Jul | Aug | Sep | Oct | Nov | Dec | Annual |
| --- | --- | --- | --- | --- | --- | --- | --- | --- | --- | --- | --- | --- | --- |
| Average Max. Temperature (F) | 46.6 | 48.4 | 51.9 | 55.8 | 61.1 | 65.3 | 69.7 | 70.4 | 66.0 | 58.0 | 50.6 | 45.8 | 57.5 |
| Average Min. Temperature (F) | 31.4 | 31.3 | 33.8 | 36.8 | 42.6 | 47.5 | 50.1 | 49.5 | 44.7 | 38.7 | 34.0 | 30.9 | 39.3 |
| Average Total Precipitation (in.) | 2.11 | 1.26 | 1.35 | 1.08 | 1.29 | 0.98 | 0.56 | 0.58 | 0.78 | 1.40 | 2.73 | 2.09 | 16.21 |
| Average Total SnowFall (in.) | 0.2 | 0.3 | 0.2 | 0.0 | 0.0 | 0.0 | 0.0 | 0.0 | 0.0 | 0.0 | 0.0 | 0.9 | 1.5 |
| Average Snow Depth (in.) | 0 | 0 | 0 | 0 | 0 | 0 | 0 | 0 | 0 | 0 | 0 | 0 | 0 |
Wind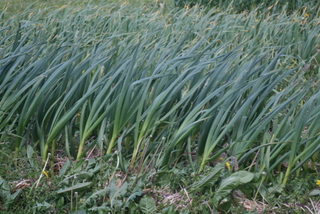 Clockwise and counterclockwise circulating (and colliding) high- and low-pressure air patterns from off the water have a huge impact on the climate. In general, cool, moist air moves down from Alaska in the fall and winter, condensing on the cooler slopes of mountains, creating a primary rainfall pattern from October through April. Dry systems blow through late spring to early fall, creating a dry season and several areas with outright drought. In addition to little measurable rain during this time, the wind sucks away any moisture remaining.
"Hurricane Ridge" in the Olympic Mountains is aptly named: winds can top 100 mph during the winter there! Locations at sea level, though, also receive the full brunt of storms; gale force winds and small craft advisories are common.
Nearby Port Angeles, where winds rarely exceed 18 mph, is greatly protected. There are few recorded data for wind speeds in the City of Sequim. However, out at the Dungeness Lighthouse, just 4 miles from the Barbolian site, the winds routinely whip through topping 50 mph, and November and December have even seen gusts over 60 mph. Keep in mind, however, that the Dungeness Lighthouse is located at the end of the longest natural sand spit in the United States (5.5 miles), jutting out into the Strait of Juan de Fuca. Also, keep in mind that the Barbolian Fields project site is situated on a road that runs parallel to the Strait in what often appears to be a wind funnel from off the surrounding flats.
The predominant winds are generally the Westerlies off the Pacific. One would think winter winds would be from the north; however, here, fall and winter winds generally switch to being from the southeast.
Records from the Dungeness Lighthouse show the following trends:
2014: Winds in March-Sept. from the W/WSW/SW direction, highs at 30-50 mph (highest in April); winds during Jan-Feb and so far, during Oct-Nov have from the E and SE, hitting 56 mph in Oct.
2013: Winds Feb-Sept. predominantly from the west; highs hitting 56 mph in March & April; October-Jan, winds mostly from the S / SW, with a high of 62 mph in December.
2012: Winds April – Oct. mostly from the west, with a high of 50 mph in Oct., and even May had a high of 45 mph. November – March, winds were mostly from the SE, with highs of 62 in Dec. and 59 in Feb.
2011: May-Oct, winds were mostly out of the west, with a high of 44 mph. Jan-Mar and Nov-Dec, winds were mostly from the S / SE / SW, with highs of 54. The dominant direction in April was WNW at 40 mph high.
2010: March-October, winds were mostly from the west, topping 50 mph; May was predominantly northerlies, however, reaching a high of 52 mph. Jan/Feb and Nov/Dec were mostly from the SE and some from the SW, hitting 53 mph in November, often the windiest month.
The winds gust enough through Barbolian Fields with enough force that some kind of windbreak could significantly reduce the stress on crops. One year, I planted sunflowers to the west to provide a windbreak to a 3-sisters corn, squash, and bean crop. Many of the sunflowers toppled over. Another year, I planted corn in a traditional block, only to have many stalks blow over and others grow at a 45-degree angle. Despite this obvious power, according to regional green energy experts, wind power systems are not very cost effective here, because although it seems like it is blowing nearly all the time, there are actually long periods of relative calm (e.g., during the night through mid-morning, with the wind picking up in the afternoons). According to recorded stats, wind speeds average from 6.9 to 7.9 mph over the year, which is quite a bit different than recorded highs (recorded averages are from the Dungeness Lighthouse station). Accounts in Sequim are much less. Unstable conditions are likely in spring and summer; fall tends to be milder. So, although a windbreak for plants is a necessity, wind energy is not likely to be a primary source of power, but still worth investigating.
References: