I have a serious case of scape envy. There. I've said it. I have so-called "friends" who send me pictures of their garlic scapes and how well they are doing. Don't get me wrong. I love to see how the garlic is growing in other parts of the country – especially garlic bulbs that are descendants from our own. It's just that we have had so much wind and rain and cold here in the Northwest, I can hardly call it "spring." I am only just beginning to see the tips of these little bulbils emerging on my earliest varieties. Sure, I am getting a few scapes off the elephant garlic, which are always the first to emerge, but it will be awhile before the hardneck varieties offer theirs for the picking. Usually I am harvesting around Memorial Day and into the first week of June.
In the meantime, I have been working on compiling my favorite ways of using garlic scapes in the kitchen, which, considering the way I cook (it's called "fling theory"), is turning into a stream-of-consciousness novella. I am hoping to get this little cookbook finished before scape season is over, but believe me, it has been a drooling undertaking that has only added to my misery.
Course, the person who sent me the pictures knew very well what he was doing, judging by his dry humor. But I have to admit the photos were strong evidence of his gardening prowess. He has been able to get hardneck varieties to thrive where they are least likely to survive – an undisclosed location in the desert. (I wouldn't want to be held responsible for someone sneaking into his backyard and snipping off these delicacies. Not that I would do such a thing. Er… I mean, anyone.)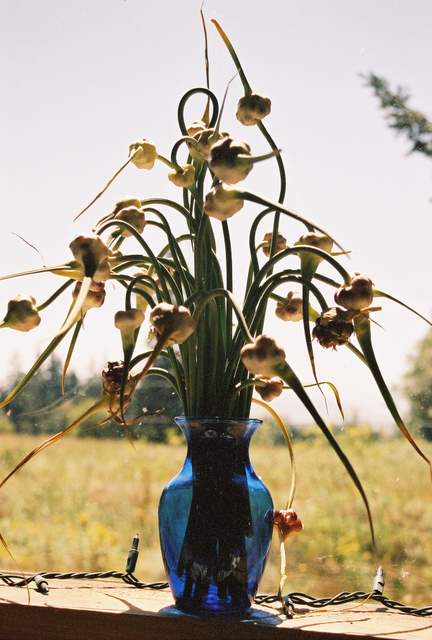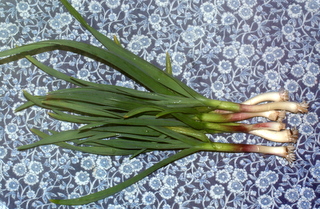 And speaking of scapes – or maybe scallions – I had a good question from a reader the other day who asked how big they can get before they're too tough to put in a salad or just grill. He had recently purchased some at the farmers' market that were about ½ inch diameter, and said they were much too tough to eat raw or grilled, but that sliced and sautéed in scrambled eggs, they were great. I am not sure whether he was talking about scapes or scallions, so this is a good time to bring up two things: 1) not all scapes are the same, and 2) the difference between scapes and scallions.
Scapes are the shoots that come out of the center of the garlic plant at this time of year and form a little bud on top that later develops into little seedlets (which can be planted or eaten). Only the hardneck varieties produce scapes (actually, the softnecks will, too, but only under duress). Elephant garlics, which are not a true garlic, but of the leek family, also produce scapes.
I was in our local grocery today and saw garlic scapes bundled up with rubber bands like asparagus spears going for about $4/lb. They were tall and straight and a little on the thick side: definitely elephant garlic. The top bulbs were quite large. Obviously older than the ones I had just picked from our garden.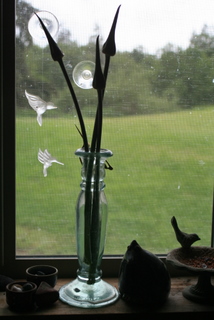 The elephants have a much different flavor than do the smaller, more delicate scapes of gourmet hardneck garlic varieties, which often twist and turn in circles, depending on the type. Although the elephants in general are milder than regular gourmet garlic, they also tend to have a slightly bitter flavor. Care must be taken not to cook them at too high a heat, which can bring out that bitterness. Personally, I prefer them in soups and stir fries. In fact, I used some the other night lightly sautéed with some pak choi and a little celery, and it was delicious over cous cous.
In general, young scapes from hardneck garlic varieties are better for grilling or eating raw. Even the very curly ones, though, if left on the plant too long, make better floral arrangements.
Regardless of the kind, fresh scapes should snap like an asparagus. Old ones get tough and woody. Yes, the flower tips are good to eat, too, but also can get quite tough, depending on when you pick them.
The other thing I'm seeing in stores is "green garlic" or "garlic scallions." These are not scapes. These are just immature garlic plants. They look a whole lot like green onions and are about the same size. They can be either hardneck or softneck varieties, since we're talking about the whole plant, not just the scape shoot. Elephant garlic scallions, which are often advertised as "green garlic," are much larger and more like their leeky cousins. You will often see the little nubs starting to form on the bulb that are characteristic of the elephants. These will grow into those hard-shelled corms or bulblets that can be planted and grown into rounds the first year and full-sized elephant bulbs the following year.
Hope this answers some of the questions out there about scapes and scallions. Whatever the variety, they are all similar in that they are best when young and tender – and there are so many things you can do with them, I can't begin to list them in a post – hence, my upcoming cookbook!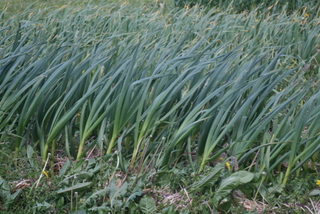 All I can say is that I am really looking forward to harvesting a few garlic scapes of my own. It has been a challenging spring on our little back acre. My garlic has been literally whipped by gale-force winds – repeatedly – for months. Not to mention downpours. It's amazing that it is still standing. No wonder the tips are yellow. At least it has been a good opportunity to see which varieties are faring the best under adverse conditions. We have our own little Survivor episode going on out there. (So far, my newest arrival, German Extra Hardy, has been outperforming every other garlic on the plot – but size, strength, and tenacity are only preliminary characteristics. Bulb size, flavor, disease susceptibility, and storage capability are yet to be tested.)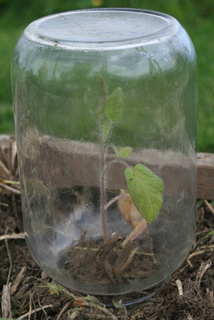 As for the rest of the veggie garden – it's kind of a gamble. If I waited until nights are consistently at 55 degrees before planting (as many seed packages suggest), I'd be a long time waiting. Heck. We're lucky to reach 55 in the heat of the day. As you can see from the status of my tomatoes, I'd probably better stick to garlic.  Course, last year, I purchased plants from A New Leaf (which is now housed at the Red Rooster Grocery), and they just about took over the world as I know it – the tomatoes, that is, not Mark & Lisa at the Red Rooster, although they are definitely getting a "buy local" movement going that is doing its part to change the world.
Still, I can't complain. I think about my desert-rat friends trying to grow garlic in what is quickly approaching 100 degrees, and I imagine I would be breaking out in some kind of rash under those conditions. I wish them well and hope that they enjoy those tender scapes while they can, because they are likely to be harvesting their garlic bulbs pre-cooked (which might not be half bad – hmm, they might be on to something there – and if nothing else, time for a neighborhood barbecue!).