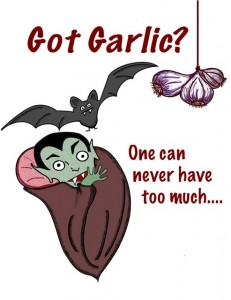 (One can never have too much…)
You've read the blogs, you've followed the progress of the crop through the pictures, you've been salivating all year waiting for the fresh stuff to be available …
---
We are sorry to report we are no longer selling garlic.
In looking back, though, growing large crops of so many different kinds of garlic was a lot of fun – and I met so many good people through sharing the harvest – it was a big part of my life for many years. I have decided to keep this page intact in hopes that the info might still prove to be useful to passerbys.  
Best of luck to you in all your growing endeavors!
~ * ~ * ~ * ~ * ~ * ~ * ~ * ~ * ~ * ~ * ~
GARLIC BULBS & BULBILS – How to choose?
Ah, so many garlics, so little time! If we could only grow (consume, compare, savor) the hundreds of garlic varieties that are available! It makes me want to travel to faraway lands and search the public markets for little-known treasures. Fair warning: It truly does become an obsession, and the only solution may be to grow your own! (That's how we got started.) We've made some adjustments over the years to figure out what grows best on our back acre – you can read about our foibles in our blog posts – there have been some high successes and some rather low failures in that learning process.
ALSO – Don't forget Bulbils – those little seed-like looking clones that bob from the top of scapes! Bulbils are a great way to size up your crop for very little money if you are willing to take the time to grow them over a couple of seasons. They also have the advantage of not carrying soil-born diseases. For more info on bulbils, check out Planting Garlic Bulbils for Fun & Profit and How to Plant Garlic Bulbils.
Here are a few of our favorite garlic varieties that we used to grow (and consume) in great quantities:
HARDNECK VARIETIES:

best for cooler climates; very flavorful; shorter shelf-life

Variety

PORCELAINS: Store longer than Rocamboles; great flavor. 4-6 cloves/bulb

Heat Index

Shelf Life

(Months)

Romanian Red





Came to British Columbia from Romania. Large cloves; tougher skin; long storing; hot and pungent; long-lasting bite; tastes hotter after storage. Good storage. Survived

 the rust plague of 2013! 

* * *

6-7

Rosewood

New in 2011. This bulb originated in Muldova, a country located between Romania and Ukraine. After tasting this bulb, I want to go there! It's a beautiful porcelain variety (are not all porcelains beautiful?) with an average of 4 good-sized cloves. The flavor is rather mild but still very garlicky. It is reported to have long storage capabilities – up to 10 mos. – which is outstanding. This is a popular variety that quickly sells out. I really like this woodsy little bulb. Will have to get a picture!

*
8-10

Susan D.




Beautiful, big porcelain from Canadian grower, Flora Baartz. Mild in heat but high in garlic flavor. This one has been one of my strongest plants in the field.

 

6-7

Variety

PURPLE STRIPES, MARBLED PURPLE STRIPES, and GLAZED PURPLE STRIPES: Retains flavor when cooked; good for baking. 6-10 cloves/bulb.

Heat Index

Shelf Life

(Months)

Brown Tempest

Brown cloves with a hint of rose blush and no stripes. Averages 4 to 6 cloves per bulb with nice shape and size. Raw garlic has initial taste that mellows to a pleasing garlicky finish. This one has often been my best performing bulb out of the Purple Stripe varieties.




* *

4-5

Chesnok Red





From Shvelisi, Georgia; high performing; easy to peel. Mild with a bite! Superb for roasting and cooking; holds shape and flavor. Has won numereous "best baking garlic" contests. (small bulbs store longest)

Grower's Update: They averaged a little smaller this year, but I will continue to grow this excellent bulb.

* *

4-6

Metechi


This fiery little bulb gives high powered garlic flavor. Probably originated in the Republic of Georgia. Raw taste is hot but with a nice finish. This bulb is

 consistently a good yielder! 

* * *

4-6

Persian Star



From a Samarkand, Uzbekistan bazaar in the late 1980s. This bulb starts out weird – it grows in a kind of whorl – and then the spiral straightens into one of the strongest in the field. Vivid clove colors: the outer bulb wrapper is sometimes smooth white; inner wrappers are purple streaked with red tips. The cloves have sharp points that come together in a kind of star-shape. Very beautiful. Flavor has a nice spicy zing to it.

This is a medium-sized bulb, but definitely worth growing.

*

4-6

Russian Giant


These big bulbs have 6-8 giant, easy-to-peel cloves and have "spiced up many a Cossack's dinner on the windy steppes." That's the standard description you see about this bulb, but believe me, these Russian Giants are truly outstanding bulbs and one of my top performers. One characteristic of this bulb is its very strong neck, which means you might need to take extra care in curing it. Even so, i

t's an extremely popular bulb, and it's not hard to see why!

***

4-6

Siberian

 


An outstanding strain, originally secured by fishermen trading green leafy vegetables with locals who grew only root crops. The clove skins are dark brown; creamy white inside; mild heat. Very high allicin content. This one has consistently done so well for me, I always plant a lot of it.

*

5-6

Vekak

 



From Czechoslovakia; beautiful, deep purple bulbs! Varied sizes. Fiery taste that improves with cooking. I like this bulb and would hate to see it disappear, so I was greatly relieved when it survived the wind and rain of 2010.

Grower's Update: For me, this bulb tends to be a little on the smaller size, but definitely makes up for it in flavor. You have to keep an eye on it, though. They tend to mature a little earlier than some of the others.

* * *

4-6

Variety

ROCAMBOLES: Very flavorful! Very hardy, easy to peel, but short storage. 4-8 cloves/bulb.

Heat Index

Shelf Life

(Months)

Juan de Fuca Wonder


Our own! Adapted to Sequim Valley conditions over 20 years; rich and spicy. One of my personal favorites! This is the bulb I have carried around with me and grown since 1976. It can survive just about anything – including periodic drowning and droughts. The bulblets on the scapes on this plant are quite large and easy to plant. I named this bulb myself because I wasn't sure what it was. After a little digging & consulting with friends, I have good reason to believe it is a Spanish Roja. Perhaps because it has adapted so well to our climate over the years, this bulb is a strong survivor no matter what Mother Nature throws at us (or what challenges I put my plants through!)

.

* *

4-6

SOFTNECK

VARIETIES:

Grow well in milder climates, make beautiful braids, long storage




Variety

ARTICHOKES: Extra large, long storing, mild flavor. 12-20 cloves/bulb

Heat Index

Shelf Life

(Months)

Inchelium Red  

The best softneck for roasting; large, cream-colored bulbs, tinges of purple/rust; mild, lingering buttery taste. High soluble solids give this variety a denser, heavier feel and more edible portion than other garlics. Mild but lingering buttery taste. This one has also done extremely well for me. These things get huge. 2.73″ average. Some get over 3″. Just warnin' ya! I usually plant a lot. 

* *

6-9

Polish White




From New York. Largest of the softnecks. Initially hot, but tones down quickly with a "sticks around" buttery sensation on the lips. Artichoke varieties have lots of cloves for bulbs – so if you're looking for something with just a few, plump, easy-to-peel cloves, this is probably not it. However (and this is a big however) – a tighter skin might mean harder to peel, but it also means less air in contact with the clove and, therefore, longer storage capability and fresher taste. These bulbs are huge, lumpy, braid-able, and perfect for when you want to add a few cloves but not overpower everything with the garlic. This one consistently does well for me. I like it. I like it a lot.

* *

6-9

Siciliano 

Large bulbs, symmetrical and firm; milder flavor. Perfect for pasta, tomato sauces, olive oil. Long storing. Barely survived 2010, but by 2012, was back up and running strong. I am Sicilian. I cannot NOT grow this! (remind me to get a picture!) Ok. we say size doesn't really matter – because when it comes to garlic, those little fireballs are really something! But say – when a bulb AVERAGES 2.84″, you have to step back a little! This one and the Transylvanian were simply amazing! And for roasting….ahhhhhh…..




* *

6-9

Transylvanian 

Discovered in a Romanian farmer's market in the mid-1990s. This is one gnarly looking bulb! BIG, cream colored, lumpy looking – with up to 16 cloves that contain an excellent flavor with more than a bit of a bite. Twilight fans beware! This bulb made a tremendous comeback in 2013 and definitely gave me a reason to never give up on a variety! It was the absolute largest in the field – one bulb even measured a full 3.5″!!! Complex flavor. Not too mild. Not too sharp. A great bulb for just about everything.


* *

6-9

Heat Index:  * = smooth & mild;   ** = medium;   *** = grab the fire extinguisher!
ENJOY!  And Many Thanks to one and all from Blythe & the Gang at Barbolian Fields!