Alternate Title: Garden Visions and Realities: Creating a Practical Seed Order – or not.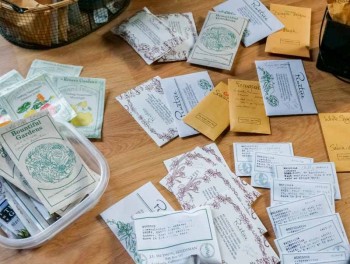 I originally wrote this post shortly after Groundhog Day, when we were just praying for a ray of sunshine and a shadow – and here we are now caught in the middle of March Madness, aka the Ides of March, which is called that for good reason. Winds have been howling at 65 mph (I kid you not) and the rain hammers us in torrents. This is how winter quickly melts into spring.
The pre-spring storms give us a bit of time to flip through all the new garden catalogs that have arrived since the beginning of the new year. It is, indeed, the perfect time to create this year's garden vision and a concrete plan to make it happen, if you have not done so already.
So – tell me – have you placed your seed order yet? Because no need to panic if you have not; I mean, there is still time; but just beware, many companies are putting on some really great sales right now. It is hazardous enough to thumb past the glossy centerfolds, many of which have been known to be pinned on the walls of backyard sheds, but throw in a good deal, and you might find yourself succumbing to the symptoms – and repercussions – of ISOD.
Perhaps my story will help.
My tale begins in early January, which was mostly spent curled up sniffling in a chair under a cozy blanky, sipping cauldrons of rather strong concoctions designed to deter all manner of evil spirits. It all began innocently enough, passing the time perusing a stack of new seed catalogs – some quite shiny, some rather plain and forthright, all very beautiful. Before long, I found myself dog-earing pages and highlighting descriptions that transported me to summer paths lined with crunchy cucumbers, flavorful green beans, and heady-scented flowers covered with bees. I seriously did not even blink at the idea that a company might offer over 200 varieties of tomatoes, but rather, proceeded to investigate each category according to shape, color, and determinate vs. indeterminate variety.
I am convinced that the people who write descriptions in seed catalogs are the same ones who write wine labels. They certainly work! I poured myself a glass and soon found myself ordering enough tomatoes for an entire lifetime, as well as assorted peppers and even melons, because how could I not, even though logic tells me they only grow in warmer climates, even with a name like "Saskatchewan." I couldn't wait to put our new greenhouse to the test – and more about that in posts to come.
Well, if you are like me, you will readily understand how easily this can happen. You, too, have undoubtedly debated over the differences between heirloom, heritage, and open-pollinated; you would never think of purchasing anything even remotely associated with GMOs; and you have likely raised a fist in support of the "Free the Seed" movement through the Open Source Seed Initiative. Oh yes. We are a radical bunch.
But then there's that sobering moment when you gather up all your seeds, old and new, spread them out on the floor, and you reach a moment of truth, as in, "OMG – I have my work cut out for me…."
If you found yourself nodding your head in understanding to the above scenarios, you may have or be at risk for ISOD: Impulsive Seed Ordering Disorder.
It kinda has that feeling of soil in it. Can it be wrong?
Not that any of us seasoned-with-oregano gardeners would make such a seedling mistake.
And at any rate, you don't have to plant every single seed.
So yes. I admit, I have ISOD. (stated boldly).  I only share this experience with you so you can avoid similar mishaps. Or not. The choice is yours.
Ideally, we would take a multi-phased approach to seed and plant shopping, and this especially goes for that vulnerable moment when you go to your local nursery on a dreary March afternoon and see shelves lined with colorful flowers, herbs, and veggie starts, just begging you, like little kittens and puppies at a shelter, to give them a good life. You can't just scoop them all up and take them home. As much as you want to. You can't.
You need a plan and you need discipline. You need to make a list IN ADVANCE of what you have, what you absolutely need, and what you really just want (which is still ok in some cases). Next, you need to wait. Seriously. At least a day. Maybe 2. You need to walk around your garden area with a realistic eye at what can feasibly go where, understanding the light, soil, and water requirements of the plant and matching them to the space at hand.
We all know this.
Did I do this? Of course not. And that is precisely why I am in the predicament I am now in. By writing this blogpost, I am attempting to save you from this anguish. Because, true confession, below is the list of seeds I actually ordered. And to top it all off, two companies were kind enough to send me "bonus" seeds (not listed), which both happened to be MORE tomatoes!
Actual Seed Order:
[su_row]
[su_column]Herbs:
Basil, Lemon (Ocimum basilicum citriodorum)
Basil, Lettuce leaf
Bayberry, Wax Myrtle (Myrica cerifera)
Blackberry Lily (Belamcamda chinensis)
Camas (Camassia quamash)
Cilantro (Coriandrum sativum)
Echinacea (Echinacea angustifolia)
Elecampagne (Inula helenium, I. magnifica)
Fenugreek (Trigonella foenum-graecum)
Gentian (Gentiana tibetica)
Hibiscus, "Kenaf", "Indian Hemp" (Hibiscus cannabinus)
Indigo, White False (Baptisia leucantha)
Lady's Mantle (Alchemilla mollis)
Lomatium (Lomatium dissectum)
Marshmallow (Althaea officinalis)
Meadowsweet (Filipendula ulmaria)
Milkweed/Pleurisy Root (Asclepias tuberosa)
Milkweed, Showy (Asclepias speciosa)
Motherwort (Leonurus cardiaca)
Passionflower (Passiflora incarnata)
Passionfruit (Passiflora edulis)
Rhodiola (Rhodiola rosea)
Sage, White (Salvia apiana)
Schizandra (Schisandra chinensis)
Sea Kale (Crambe maritima? Cordifolia)
Skullcap (Scutellaria baicalensis)
Skullcap (Scutellaria lateriflora)
Spilanthes/Toothache Plant (Spilanthes spp.)
Woad (Isatis tinctoria)
Trees and Shrubs:
Bilberry, Whortleberry (Vaccinium myrtillus)
Himalayan Honeysuckle, Treacle Tree (Leycesteria formosa)
Jujube, Chinese date (Ziziphus jujuba, var. spinosa)
Pine, Korean Nut (Pinus koraiensis)
Yellowhorn, Chinese Flowering Chestnut (Xanthoceras sorbifolium)
[/su_column]
[su_column]
Perennial Vegetables
Asparagus, Conover's Colossal (Asparagus officinalis)
Chinese Yam, "cinnamon vine" (Dioscorea batatas)
Chufa, Tigernut (Cyperus esculentus, var. sativus)
Earthnut peas (Lathyrus tuberosus)
Good King Henry (Chenopodium bonus-henricus)
Salsify, Oyster Plant, Purple salsify (Tragopogon porrifolius)
Watercress (Nasturtium officinale)
Oca Roots (Oxalis tuberosa)
Yacon (Smallanthus sonchifolius)
Skirret (Smallanthus sonchifolius)
Annuals:
Bean, Dry, Bush, "Calypso"
Bean, Dry, Bush, Jacob's gold
Bean, Snap, Bush "Dragon Langerie," "Dragon Tongue"
Bean, Snap, Bush Royal Burgandy
Bean, Snap, Pole, Emerite
Carrots, Atomic Red
Carrots, Cosmic Purple
Carrots, Scarlet Nantes
Cauliflower 'Romanesco San Giuseppe'
Pepper, Sweet 'Corno Di Toro Rosso'
Pepper, Sweet Chocolate Beauty
Pepper, Sweet Lilac Bell
Tomato, Amish Paste Organic
Tomato, Black Krim
Tomato, Remy Rouge
Tomato, Tumbling Tom yellow
Watermelon, Cream of Saskatchewan
[/su_column]
[/su_row]
The Strategy to the Madness
Ok. Ok. I admit I might have gone a little crazy this year. I will definitely be putting the new greenhouse to good use. However, hear me out. I justify it in that I am keeping true to my strategy in creating our backyard permaculture jungle:
Establish the main structure with larger shrub and canopy species, and working from the top down, gradually fill in the understory with herbaceous and groundcover plants, including annuals. We are now in that "filling in" stage (and trying to eliminate some of the quack grass in the process).
Build strength through diversity. Some might say, "You have around 350 different plants in your database already. Don't you think you have enough diversity?" It might seem like a lot, but truly, in trying to grow a varied diet for the bees across all seasons and in adding other useful plants that give us our food and medicines, exotic fermented beverages, fire to keep us warm, weaving materials, handles for our tools, and so much more…. and in considering the palette of wondrous plants in existence…. seriously, I have barely scraped the surface of the soil.
I am convinced that this will be the year when the perennials really take off. This will be the year when I can better fill in the understory to create the mini-ecosystems we call guilds. Ecosystems within ecosystems within ecosystems. The combinations are mind-boggling.
Is the vision practical?
Heck no! What fun is that??
Will I even be able to get these seeds to germinate? I mean, some of them take months, even years! Some require cold processing, followed by heat, followed by cold. It is nature's way. Can we simulate this? Are we not trying to emulate nature in creating these mini-ecosystems in the first place? And if we get them to sprout, and we nurture them along until they are large enough to take care of themselves, combating moles, voles, and quack grass in the interim, will they be able to thrive?
No guarantees. Life is full of questions and not always clear answers.
Gardening is like that.
ISOD? I say EMBRACE ISOD!
On my journey to cover every square inch of this earth I help to nurture, I endeavor to plant something beautiful, interesting, and of intrinsic value. I give thanks to these wonderful seed companies that make these visions possible.
Favorite Seed Order Companies:
Where to begin? Some of my favorite seed companies this year included
Bountiful Gardens (A seed company with a higher purpose. These folks are fantastic.)
Burnt Ridge Nursery (plants, not seeds – lots of permaculture-type plants at reasonable cost)
Fedco (love their planting charts!)
Heritage Seed Market (looking for tomatoes? look no further)
High Mowing Seeds (quickly setting the standard)
Horizon Herbs (now known as Strictly Medicinal Seeds)
JL Hudson Seeds (Quirky. Interesting. Vast diversity of hard-to-find seeds.)
Oikos Tree Crops (plants and seeds)
Peace Seeds (met these folks at a Corvallis, OR farmer's market – very nice!)
Pinetree (Family owned & operated, lots of varieties with a little misc.)
Renee's Gardens (cottage flowers & veggies; quality seed; impressive outreach programs)
Restoration Seeds (out of Ashland, OR; 100% open-pollinated; helpful growing info)
Sample Seeds (small inexpensive packets when you don't want a bunch)
Seed Dreams (a local favorite on the Olympic Peninsula – quality seed!)
Siskiyou Seeds (out of Williams, OR; somewhat harsher climate; conscientious growers)
Territorial Seed (large presence in the PNW; trustworthy sources)
The Thyme Garden (one of my first sources of hard-to-find herbs back in the 70s)
Turtle Tree Seed (Biodynamic. These people are awesome)
Uprising Organics (These folks really test out what works in the PNW before offering.)
and there are just so many good seed outlets out there…I know I have left out more than a few. I SO admire these small companies because I have truly found out first hand just how difficult it is to grow the plants, keep everything from cross-pollinating, harvest the seeds, cure them, clean them, design the packages, and then package them up for a measly couple of bucks each. Not to mention distribution and mailing and keeping track of orders.
Show them your support.
Go crazy. Yes.
Get radical.
Why not.
**~*~**
You might also be interested in:
Herb Plants at Barbolian Fields
Calendar of Blooms
Favorite Plants for Pollinators
Cracking the Seed Germination Code