Call in the Garlic Whisperer!
If you grow garlic for any time at all, eventually you will have "issues." At some point along the way, you might notice that some aren't doing quite as well as the others. Maybe you notice a little discoloration or wilting, but overall, most seem to be holding their own against rain, wind, and heat. Or maybe, much to your surprise, a whole bed will turn yellow and fall over, seemingly overnight.  On the other hand, maybe everyone appears to be doing just fine, the leaves turn yellow in summer, indicating time to harvest, but when you dig them up – agghh! The Dreaded Black Spot! Maybe even white fuzz, malformed bulbs, stunted roots, creepy-crawlies, or any number of other things. Or maybe they all look beautiful, you proudly hang them to cure and are ecstatic at the wonderful crop, but then a month later, they become soft and show signs of decay. If you are crying out, "What's Wrong with My Garlic?" – this article might be for you.
Many will tell you growing garlic is easy – but the truth is, it is a long, tricky process, and you – or nature – can screw it up any step along the way. By the time you notice something is wrong, it can be too late.
Don't thrash yourself too harshly. Some things you simply can't avoid. They are there. But you spend 9 months pampering these sweet babies into healthy, strong individuals, and you want to do what you can to ensure they grow up to their potential. I am a strong believer in unconditional love, but there are also times when tough love is warranted. However, paying attention, listening, and a little preventative care can go a long way to avoiding problems down the line.
It's a Bit Like Fortune Telling: We Have to Learn to Read the Leaves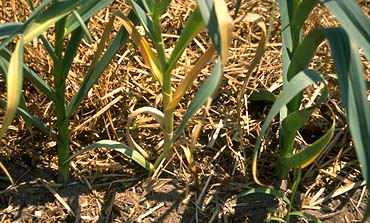 Garlic speaks to us through its leaves – so if we want to understand garlic, we can divine knowledge of its well-being or malaise (and correspondingly, our upcoming fortune or otherwise) through leaf interpretation. Divination requires two things: a question and an answer. The real question, of course, is whether it's the right answer, what does it mean, and what is your subsequent response. I guess that's four questions. No matter. Life rewards action.
For example, the standard advice on when to harvest garlic is to look at the leaves. When the bottom leaves start to brown but 3 or 4 green leaves still remain (some recommend 5 or 6, but not every variety has a lot of leaves), the time is right. Each green leaf represents an associated wrapper that can protect the bulb after it is harvested, so you want to make sure you have a few green ones left.
Yellow tips are such a common garlic phenomenon that many consider it "normal." They can be caused by any number of stressors: a hard winter, a warm spell followed by a freezing spell, mild nutrient deficiencies or imbalances, too much or too little water; a little of this and that. I don't worry about yellow tips. My garlics usually get them. Everything I read says that unless they are extreme, yields should not be affected.
However, yellow stripes, splotches, speckles, leaf curl, thickened leaves, purple veins, or other abnormalities indicate something more serious is going on: soil deficiencies, insect infestations, fungal growth.
Multiple shoots coming from the stalk might be from cold damage in early spring.
Severely stunted, crumpled bulbs in spring might also be a vivid complaint about a rough winter or early spring freezes. Stunted plants might also indicate the presence of thrips.
Wilted leaves during mid-season: your plant might just be thirsty. Be aware that under-watering can cause the plant to mature early. Or maybe it's just tired and hungry, in which case a little foliar or root-zone feeding might bring it back around. Then again, perhaps something more nefarious is lurking beneath the surface, and further investigations are warranted.
I used to think that garlic was an invincible super plant. After all, it is used as an insecticide, fungicide, plant strengthener, immune system booster, and it provides a number of health benefits to our homeo sapien brethren. What could possibly hurt this remarkable plant?
As it turns out, Plenty! The following is a quick summary of several of the fungi, insects, and other stressors that can affect the garlic crop. After compiling this list, I am actually quite amazed mine have done as well as they have over the years!
Mold & Fungus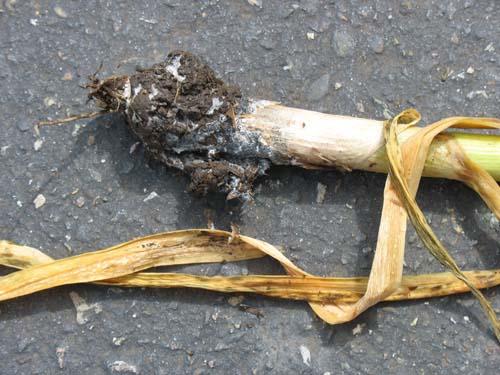 Aaaagggh! If you live in the Northwest, mold happens. Every year I find some – some years I find a lot. We've had one of the coolest, wettest spring & summers on record – conditions that would make any fungus happy – so don't be surprised if some of your beloved garlic plants fall prey. Sometimes you can't tell what's going on – the plants look basically fine, maybe the leaves start to yellow, which they normally would anyway – maybe some seem a little smaller, but variations in size are common – and then you go to harvest the plant, and you find the dreaded mold. Roots that are rotted off are a sure-fire sign, as is black around the neck. I have had cold, wet years when I've lost most of my crop. Sometimes it's isolated to an individual area, in which case I take a closer look at soil differences, watering techniques, or microclimates that could cause problems. These bulbs need to be thrown in the burn pile (do not compost!), and it's a sad day. I have, in desperation, rubbed off outer skins and thrown clean cloves into vinegar for a fresh pickled garlic, but they are never as good as the cured kind. Here are some specifics:
Basal or Bottom Rot (Fusarium culmorum and F. oxysporum): This fungus is pretty much in all soils but is usually not a huge problem unless the plants are already weakened by some other stressor. It is most frequent in warmer temperatures, like late in the summer. Look for reddish decay in a single clove or the entire bulb. Yellowing begins at tips of leaves and moves down; plants may wilt; rot appears at the basal plate. Bulbs might appear ok but then rot during storage. It looks a lot like white rot, but death proceeds more slowly. If conditions are not ideal, it may not be that obvious that it is even there – but then, during storage, if temps are relatively warm, the bulbs may begin an early decay and the cloves shrivel into tough little inedible nuggets.
Blue Mold (Penicillium hirsutum and P. corymbiferum): The Penicillium Rot travels through the air and shows up as a blue-green mold on wounded garlic. It can happen in the field, where they emerge but then turn yellow and die, but it particularly occurs after harvest during storage as a result of rough handling. Be careful not to plant infected bulbs or you will get it again. It's easy to do. One little infected clove in a bowl of popped cloves ready to plant can infect the whole bunch. If you see mold on a bulb, don't think you can plant the "clean" cloves. They are not. Spores are invisible.
Downy Mildew (Peronospora destructor): "Destructor" says it all. It likes cool, damp/wet weather. Spores can be wind-blown over long distances, and they can even "swim" via rain and irrigation. They just love it when the weather is around 55 degrees, which it is for most of our spring and summer. The pathogen survives as oospores for many years in the soil. When the weather turns hot, the plant can regain the upper hand, but if it turns cool and damp again, the Destructor will return. It can reach epidemic proportions under the right conditions. Look for spots on the leaves that become covered with a grayish furry mold. Growth is stunted; younger plants may die; outer scales of bulbs become water-soaked; necks sometimes shrivel and turn black. Yuck.
Leaf Blight (Botrytis squamosa): Look for grayish-white leaf spots that become brownish. Usually occurs under high humidity, moist conditions.
Neck Rot (Botrytis allii and B. porri): This fungus survives on dead plants in the soil and attacks garlic leaves in warm, wet weather. It will also take over the bulbs in storage. It is called "neck rot" for good reason – the stem turns black and slimy and easily pulls from the bulb. It can be quite common in maritime climates, and usually affects the softnecks more than the hardnecks. Watch for sclerotia, those black clumps that form between cloves. Excessive rain or irrigation can encourage growth, and it is difficult to control in wet weather. I have had to deal with this in wet years when mulch and compost kept the moisture levels high in the soil and directly around the bulbs, and also when weeds (large dandelion leaves!) limited air circulation around the plants. Be careful not to bruise the bulbs, which can also invite infestations.
Rust (Puccinia allii): The rust fungus travels with the wind and loves cool, wet conditions. High humidity, low rainfall, temps between 45 and 55 – oh, yikes – that's exactly what we get here! Look for yellow flecks and spots that turn to orange and brown. The only real controls involve chemicals. Fortunately, according to CA studies, although overall yield may be reduced in heavy infestations, you can still use the cloves for planting in the following year. Rust was a problem for me this year, which I will discuss in a future post.
White Rot (Sclerotium cepivorum): If you get this, you might as well give it up forever, because this fungus can live 30 years in the soil and is particularly active in cool, wet conditions. It looks a lot like basal rot but the garlic demise is much more rapid. The bottom leaves turn prematurely yellow, along with the leaf tips; the plants fall over and the stems and bulbs begin to rot; the plant pulls apart; roots are rotted; you can see fluffy white mold and poppy-seed-sized black sclerotia, which are smaller than what you'd find on neck rot. The sclerotia germinate in the presence of sulfur, which is produced by the garlic plant. How convenient for them.
Viruses
Yikes. "Virus" is such a scary word! It conjures up images of the plague sweeping across a field of posies and we all fall down. However, according to the U of MN: "Because garlic is clonally propagated, almost all [italics mine] planting stock is infected with some type of virus. The viruses are usually mild and do not seriously affect yield….One exception is onion yellow dwarf virus, which can cause severe mosaic in combination with other viruses. Most of the garlic purchased from seed catalogs and other garlic growers contains some virus."
Garlic Mosaic (also onion mosaic): Look for mottling or striping on the leaves. Mosaic is caused by several different viruses that appear to be lumped under the "potyvirus" term. They can be transmitted through the planting stock or even carried by aphids. It is thought that these viruses are commonly present in all garlic (according to U of CA).
Iris Yellow Spot is a virus carried by onion thrips. It is usually seen on onions, but can also affect other members of the Allium family. Identify by a diamond-shaped splotch on the leaves or elongated brown lesions.
Yellow Dwarf Virus: Look for yellow streaks on the leaves. Not all leaves are necessarily infected, and how much it affects the crop depends on the level of infestation and the time of the season – a mild infestation late in the year might have very little effect. Stressed plants are more likely to get it – or maybe they have it all along, but a weakened plant under the right conditions allows the virus to manifest itself. In severe cases, plants are stunted; leaves and flower stalks can be twisted and pale. Of course, yellowing leaves look like just about everything else that can affect garlic, so it's hard to tell whether it's really the result of the evil Yellow Dwarf or not. Preventative measures are best.
Critter Infestations
Aster Yellows: I put this in the critter category because it is carried by a leafhopper bug.  Signs include smaller, yellow, deformed leaves (veins remain green) and a possible "witches' broom" appearance. The disease is relatively new in garlic, particularly up north, but I recently heard of a grower in Minnesota who lost 10,000 bulbs to this pest! What a devastating loss! Aster yellows can actually affect over 300 species of plants and is caused by a phytoplasma. When the leafhopper feeds on the plant, it becomes infected for the rest of its life. The spread of aster yellows is worse in cooler, wet climates, probably because leafhoppers don't like hot dry areas. One has to wonder what kind of pests and diseases we will have to deal with in the face of climate change – those things that might migrate north to escape the heat and drought.
Nematodes (Ditylenchus dipsaci) can live in plant tissue for 9 years! They spread through planting infected seed stock. Plants may show no symptoms in cool growing conditions, but in warmer weather, the tops will yellow prematurely. In some cases, the stem will appear stunted or twisted or even swollen; sometimes the bulb is deformed. Look for swollen tissue at the basal plate, spongy tissue, splits where you'd normally see a bulb, yellowed skins, rot and decay. (Not to be confused with the predatory nematodes, Steinernema feltiae, aka Neoaplectana carpopapsae, which you can actually purchase, and which are known to attack some 250 or so different kinds of insects, worms, and bugs.)
Onion Maggots (Hylemya antiqua): These legless little white maggots will bore into the garlic stem underground. The plant will turn yellow, wilt, and possibly die. They generally prefer onions and shallots. As an adult, they look like a little grey housefly; eggs are laid at the base of plants in the soil; the baby maggots have voracious appetites.
Onion Thrips: These little suckers love warm, dry weather. Look for whitish specks on leaves (lack of chlorophyll – they suck the life-blood juice right out of the plant) that grow into splotches and eventually all run together. They can hibernate in the bulb wrappers and carry viruses, such as the Iris Yellow Spot mentioned earlier. Oh – and if you live in a warm place, you can have 10 generations of these buggers in your field in one season alone!
Soil & Other Issues
Punky Bulb: Seriously, Dude, this is a real thing. It is caused by a manganese toxicity due to a low pH. Cloves are loose and discolored.
Waxy Breakdown: The cloves turn translucent and rot. It can happen when the temperatures are hot during harvest (sun-baked?).
Nutrient Imbalances: Lack of nitrogen, potassium, calcium, magnesium can all appear like everything else – yellow tips of leaves, often affecting the oldest ones first (calcium deficiency often appears as spots). Leaves die back. In nutrient overloads, for example, too much nitrogen, you might see excessive side shoots. Test your soil. The best preventative approach is to build the soil in a balanced way through compost; applying boxes of this and that can really throw things off.
Conclusions:
I don't pretend to be an expert here. By all means, if you suspect something wrong with your garlic, look for additional resources, talk to experts, consider having your garlic, soil, or whatever you can catch tested. In my next post, I will talk about management strategies and prevention. In the meantime, here are a few good sources of information.
Some Resources:
Anderson, Bob. "Gourmet Garlic Gardens" (website for all things garlic). http://www.gourmetgarlicgardens.com/diseases.htm
ATTRA – National Sustainable Agriculture Information Service. Updated 2008. "Garlic: Organic Production." 28 p. https://attra.ncat.org/attra-pub/summaries/summary.php?pub=29
Cornell University Dept. of Plant Pathology & Plant-Microbe Biology: Diseases of Garlic http://plantclinic.cornell.edu/factsheets/garlicdiseases.pdf
Engeland, Ron L. 1991. "Growing Great Garlic. The Definitive Guide for Organic Gardeners and Small Farmers." Filaree Productions, Okanogan, WA.
Oregon State University Extension. "An Online Guide to Plant Disease Control."
Oregon State University, Washington State University, University of Idaho. "Pacific Northwest Plant Disease Handbook," a Pacific Northwest Extension publication. http://pnwhandbooks.org/plantdisease/
University of California Integrated Pest Management http://www.ipm.ucdavis.edu/PMG/selectnewpest.onion-and-garlic.html
University of Minnesota/Extension. "Growing Garlic in Minnesota." http://www.extension.umn.edu/distribution/cropsystems/components/DC07317.pdf
University of Minnesota/Extension. "What's Wrong with my Plant?" http://www.extension.umn.edu/gardeninfo/diagnostics/vegetable/garlic/index.html
Disclaimer: Each of these resources contains valuable information; some present info on chemical controls, which is not something I myself use, but I do find it useful to know what might be applied on crops where chemical warfare is supported.