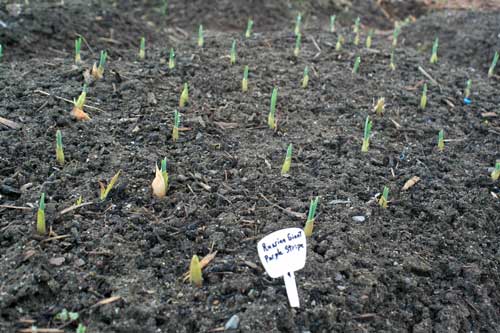 Great news! Garlic is up all over the garden and it is looking strong! Of course, we would expect a good showing on the Chinese Pink, a Turban variety, known for maturing early. This is our first year for growing this particular variety, and we are looking forward to it being ready early in the season, right about the time when we are ready to trade our first-born children for fresh garlic.
The second photo is of the Russian Giants, a Purple Stripe variety that has done quite well for us and has been high in demand in recent years. Although shorter than the Chinese Pink at this point, it is still looking good. We have a little international competition going on in our own backyard, which just goes to show why you have to grow a little bit of everything, because every kind has its strengths and unique qualities. The love of garlic unites us all. And the love of grandchildren. Which is why I wouldn't really trade my first-born child – surely, she knows that.
The problem, though, is that it is still mid-February, which means we are sure to get lots of wet weather, frost, and a good freeze or two. A couple years ago, we even got snow on April 1. So anything can and will happen. Strong winds are a sure bet.
What does this mean for early garlic? If you mulched your garlic, it's a fine line now between when to leave it on for protection and when to pull it back to let things air out. You might have noticed, I did not mulch this last winter. Two years ago, I had a serious crop failure from too much mulch combined with a long, cold, very wet spring. (I thought I was suppressing weeds – instead, I was planting them.)
Keep in mind, though – garlics are like our ethnic ancestors (in my case, Italian) – a hardworking, hardy bunch, determined to survive. They can handle the freezes, sleet, snow, and rain we get at this time of year. The wind might bend them over sideways, but once it lets up, they reach back up for the sun. But if they are engulfed for months at a time in a wet blanket that fosters a lot of mold, they will succumb. Trust me.
My garlic plants usually have yellow tips on the leaves later in the season, and I think the extreme weather changes at this time of year is a large factor in that. However, if you provide drainage (raised beds!), and if they can breathe (key word, here), they will pull through the vagaries of weather just fine.
So hang in there – garlic is on its way! (And hang on to your children – and grandchildren, too, if you are so blessed.)
(Surely, no one
really
thought I would trade a kid for garlic, did you? I mean, I was just seeing if you were really reading this. Sort of…)